Northern Connections Trilogy
Part 1 - Ketchikan to Juneau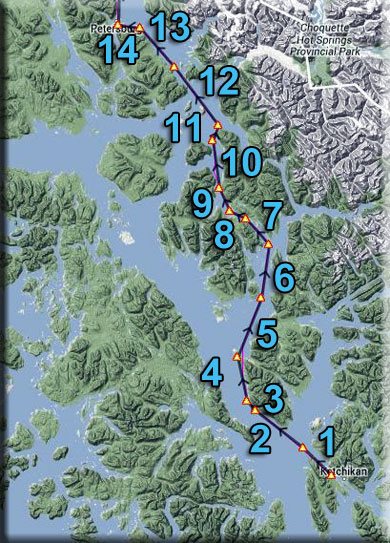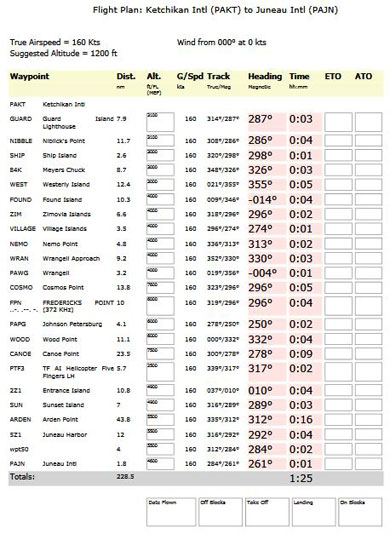 (Click on image to Enlarge)
Dispatch Setup
Suggested Altitude: 1200 Feet
Landing zone is: Tarmac, Dirt
Aircraft Type: Wheeled
Distance approximately: 228 NM
Flight-Seeing Flight Plan (.pln) HERE
Dispatch (Trip Ticket) FAQ Usage HERE
Scenery Needed:
---
Dispatch Overview
Return to Misty Moorings (RTMM) now covers a far larger area with the new software area additions. The "Northern Collections Trilogy" dispatches connect all three areas. Part I is a route from Ketchikan (PAKT) to Juneau (PAJN). Part II is a route from Juneau to Whitehorse (CYXY). Part III is a route from Whitehorse to Wasilla (PAWS).
This Dispatch is for Part I. The journey begins at Ketchikan PAKT. It travels past the Wrangel and Petersburg areas eventually landing at Juneau PAJN. The entire flight can be flown at 1200 feet and it is all over water.
The area covered now by RTMM is literally "vast." Flying "The Northern Connection Dispatches" gives the SIM pilot a far better understanding of the size of the territory and the amazing differences in topography. Flying all three of the "Northern Connections" routes will give you a far better understanding of the Land beneath the wings of the RTMM SIM pilot.
NOTAM: This is an "flight-seeing-friendly" flight plan. As long as you control the altitude as listed on each leg of the Trip Ticket, the aircraft will perfectly fly the route so you can sit back and enjoy the amazing view.
---
Leg #01: Ketchikan (PAKT to Guard Isld Lighthouse
Heading: 287*
Distance: 7.9 NM
Altitude: 1200 - 1200

Comments: Leaving PAKT you fly east up the Tongass Narrows toward Vallenar Point. Just past the point, you will see the Guard Islands and the Lighthouse.

Guard Islands, a pair of small, rocky islets, stand sentinel over the northern entrance to Tongass Narrows, which leads south to Ketchikan. Atop the larger of the two islands sits Guard Island Lighthouse, one of the most accessible lighthouses in Alaska. Its history is brief but eventful, much like the history of Alaska itself.
Purchased in 1867 for $7,200,000, Alaska was quite a bargain at roughly two cents an acre. Because much of it was considered an uninhabited arctic wasteland, many decried the acquisition as foolish, but thirty years later the discovery of gold precipitated a boom no one could have anticipated.
In November of 1903, construction began on Guard Island when a force of men started clearing and grading a site for the lighthouse. Illuminated for the first time on September 15, 1904, the 34-foot wooden tower housed a minor optic lens lantern that produced a fixed white light. Mounted on the north face of the tower was a fog bell, mechanized to strike every twenty seconds. Also on the island were a 1 ½ story frame keeper's cottage, a boat house, and an oil storage house. No longer did the mariners have to rely on their rule "three knots and a fervent prayer" to successfully navigate the narrows.
However, the wood used for Guard Island Light Station, as well as for several other contemporary Alaskan lighthouses, soon deteriorated in the harsh conditions. After all, Ketchikan is one of the rainiest places on earth, with 176 inches annually, and the winters are foggy, windy, and freezing cold. By the 1920's all the lighthouses except Eldred Rock (1906) were falling apart, and in 1922 Congress authorized the reconstruction of Guard Island Light. In 1924, the dilapidated light tower was replaced with a new single-story rectangular tower of reinforced concrete. The antiquated bell signal was replaced with a diaphone air signal that gave a five-second blast every 25 seconds. Additionally, another keeper's house was built to provide quarters for two keepers and their families.
The rough conditions and close quarters on this small Alaskan island proved too much for some of the families, whose constant squabbling was no secret to mainlanders. The most dramatic conflict erupted in the murder of the assistant keeper's wife, who had been having an affair with the head keeper. During Prohibition, life wasn't exactly smooth sailing for those on the mainland either. One Ketchikan old timer recalled, "Bootlegging and gambling were rampant in the Southeast. It wasn't that uncommon for folks who got in over their heads to show up dead." And a couple of them did arrive in that condition at Guard Island, stashed in the cabin of a drifting boat that two keepers discovered near the shore.
The final entry in the station's Register of Visitors, made on July 31, 1960 by William McKey, reads "Disestablished Guard Island Light at 14:45 this date." Thus ended the reign of keepers on the island. The vacant buildings repeatedly fell victim to vandals in the "hippie sixties," prompting the Coast Guard to dynamite the outbuildings and keeper's dwellings to rubble.
---
Leg #02: Guard Lighthouse to Niblick Point
Heading: 286*
Distance: 11.7 NM
Altitude: 1200 - 1200

Comments: You are flying over (and along) the Clarence Straight, part of the "Inside Passage". Ahead you will see the Cleveland Peninsula. You will fly with the shoreline off your starboard side to Niblick's Point, the furthest point ahead you can see.
---
Leg #03: Niblick's Point to Ship Island
Heading:298*
Distance: 2.8 NM
Altitude: 1200 - 1200

Comments: A very short leg for routing to the next way point. Ship island is very tiny, holding only a navigational light (and 2 or 3 seagulls!)
---
Leg #04: Ship Island to Myers Chuck (84K)
Heading: 326*
Distance: 8.7 NM
Altitude: 1200 - 1200

Comments: Continue to follow the starboard shoreline of the Cleveland Peninsula to the farthest point where you will find Meyer's Chuck.
Meyers Chuck is located along Clarence Strait on the northwest tip of Cleveland Peninsula. It lies 40 miles northwest of Ketchikan. It lies at approximately 55° 44' N Latitude, 132° 15' W Longitude (Sec. 05, T071S, R086E, Copper River Meridian). The community is located in the Ketchikan Recording District. The area encompasses 8 sq. miles of land and 3 sq. miles of water.
The natural, well protected harbor has long been shelter for fishing boats caught in the stormy waters of Clarence Strait. White settlers began living year-round at Meyers Chuck by the late 1800s. In 1916, a cannery was established at Union Bay. From 1916 to 1945, local fishermen sold their catch to Union Bay Cannery, which in turn, sold in bulk to Japan. In the 1920s, a saltery mild-cured king salmon. A floating clam cannery and a herring reduction plant were also present in the area during this time. A post office, store, machine shop, barber shop, bakery and bar developed to support residents. By 1939, 107 residents lived year-round in Meyers Chuck. When fish runs began to decline in the 1940s, many people left the community to join the armed forces or to work at war-time production jobs in the Lower 48. The Union Bay cannery burned down in 1947. Lonesome Pete, Greasy Gus, and other colorful characters remained in Meyers Chuck over the years. Land was patented to local residents between 1965 and 69, and the community was withdrawn from the Tongass National Forest. In 1977, five residents donated funds to establish a fish hatchery. A school was constructed in 1983, but is no longer staffed. After two major fires in the summer of 1983, residents pooled their resources to establish a fund to purchase fire-fighting equipment. A State land disposal sale was offered in 1986.
---
Leg #05: Meyer's Chuck to Westerly Island
Heading: 355*
Distance: 12.4 NM
Altitude: 1200 - 1200

Comments: We will be flying to the southern tip of Westerly Island. Passing the island, you are entering Ernest Sound.
---
Leg #06: Westerly Island to Found Island
Heading: 085*
Distance: 10.3 NM
Altitude: 1200 - 1200

Comments: You will pass over the Niblack Islands as you cross Ernest Sound.
---
Leg #07: Found Island to Zimovia Islands
Heading: 296*
Distance: 6.6 NM
Altitude: 1200 - 1200

Comments: Leaving Found Island, you are heading into the Zimovia Strait that will take you to Wrangell.
Zimovia Strait is a narrow strait in the Alexander Archipelago in the U.S. state of Alaska. It is about 100 km (60 mi) long and bounded by Wrangell Island to the east and Woronkofski and Etolin Islands to the west. The strait is shown in a 1844 Russian chart, but the name was first published in 1853 on a Russian Hydrographic Department chart as "Proliv Zimov'ya" (English: Winter Strait)
---
Leg #08: Zimovia Islands to the Village Islands
Heading: 274*
Distance: 7.5 NM
Altitude: 1200 - 1200

Comments: After you pass the Zimovia Islands, Whitetail Cove comes up to port, look closely and you will see an RTMM scenery area there (Whitetail Cove). Further ahead, you will find the Village Islands in the center of the strait.
---
Leg #09: Village Islands to Nemo Point
Heading: 313*
Distance: 4.8 NM
Altitude: 1200 - 1200

Comments: Head next to the point ahead on the starboard shoreline. that is Nemo Point.
---
Leg #10: Nemo Point to Wrangell Approach
Heading: 330*
Distance: 9.2 NM
Altitude: 1200 - 1200

Comments: This way point sets you up for a landing at Wrangell (if you decide to land).
---
Leg #11: Wrangell Approach to Wrangell (PAWG)
Heading: 300*
Distance: 3.2 NM
Altitude: 1200 - 1200

Comments: This leg heads you "over" Wrangell (PAWG) airport. You will be approaching it on a 90 degree angle, meaning, should you decide to land, you will have to go to port or starboard to do your downwind and final approach. The route flies over the airport and continues toward Petersburg.
---
Leg #12: Wrangell to Cosmos Point
Heading: 296*
Distance: 13.8 NM
Altitude: 1200 - 1200

Comments: This route takes you past the southern shoreline of Kadin Island. You are close to the ILS approach for Wrangell, so be careful of other traffic coming toward you in this area. You are flying over the "Eastern Passage."
You will pass little Summit Island and as you pass the next point of land to port, you are entering Dry Strait.
---
Leg #13: Cosmos Point to Frederick Point VOR
Heading: 296
Distance: 10 NM
Altitude: 1200 - 1200

Comments: You will fly with the port shoreline just off the wing. There is a small dock landing for float planes that services the VOR, and interesting little side trip if you are interested.
---
Leg #14: Frederick Point VOR to Johnsn' Petersbg (PAPG)
Heading: 250*
Distance: 4.1 NM
Altitude: 1200 - 1200

Comments: You are only 4 miles from the airport, if you want to land, you are going to have to turn to starboard 20 degrees to line up with the runway. The route takes you over the airport and the extensive harbor area, then turns and continues on toward Juneau.
---
Leg #15: Johnson Petersburg to Wood Point
Heading: 332*
Distance: 11.1 NM
Altitude: 1200 - 1200

Comments: Wood Point is one of the entrance way points for the Baird Glacier. (RTMM has a Baird Glacier Tour that takes you back over these beautiful glaciers). You can barely see them in the distance as you approach Wood Point.
NOTAM: Here again, you are very close an ILS Approach, this time for PAPG, watch for approaching aircraft a little to starboard.
---
Leg #16: Wood Point to Canoe Point
Heading: 278*
Distance: 23.5 NM
Altitude: 1200 - 1200

Comments: To starboard and just inland are some beautiful ice fields and glacial areas. Two glaciers reside beyond the mountains to starboard, the Baird and the LeConte.
LeConte Glacier is a 21-mile (34 km) and 1-mile (1.6 km) glacier in the U.S. state of Alaska. It flows southwest to the head of LeConte Bay. It was named in 1887 by U.S. Navy Lieutenant-Commander Charles M. Thomas in honor of a California biologist Joseph LeConte. According to John Muir's book about indigenous peoples of the area, the Tlingits called it "Huti [sic]" which he claimed derived from a mythical bird that produced sounds of thunder when it flapped its wings.[1]
Since its discovery, the glacier has retreated nearly 2.5 miles (4.0 km), although it is considered to be in a stable position today. The glacier is known for its "shooter" icebergs which calve off underneath the water (LeConte Bay is 810 feet (250 m) deep) and shoot out of the water due to their buoyancy.
Being south of the 57th parallel north, LeConte Glacier is the southernmost tidewater glacier of the Northern Hemisphere.
The glacier is a popular tourist destination, with operators from nearby Petersburg and Wrangell running excursions to its calving face. Students from Petersburg High School visiting also regularly to monitor its historical retreat.
---
Leg #17: Canoe Point to Five Finger Lighthouse
Heading: 317*
Distance: 5.7 NM
Altitude: 1200 - 1200

Your next way point is the Five Fingers Lighthouse: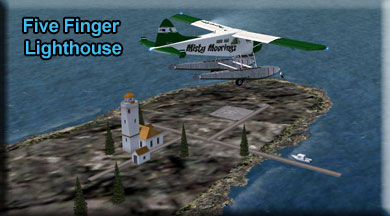 The Five Finger Lighthouse lights the waterways of Frederick Sound and Stephens Passage in Southeast Alaska. It is located on a small island in the midst of other islands known as the Five Finger Islands 65 miles south of Juneau, 40 miles north of Petersburg and about 20 miles from Kake, Alaska. The lighthouse has been an active navigational aid since 1902.
---
Leg #18: Five Finger Lighthouse to Entrance Island (2Z1)
Heading: 010*
Distance: 10.8 NM
Altitude: 1200 - 1200
Comments: You will be flying to and over Point Hobart on Hobart Bay some 10 miles ahead. The Entrance Island seaplane base is in that harbor. If you have a float plane or amphibian, you can stop and check out the facilities. Otherwise your route is to fly over the facility and continue on toward Juneau.
---
Leg #19: Entrance Island to Sunset Island
Heading: 289*
Distance: 7 NM
Altitude: 1200 - 1200
Comments: Sunset Island is only 2 miles off the coast out in the Stephens Passage. This is the body of water we are going to follow all the way up to the Juneau area.
---
Leg #20: Sunset Island to Arden Point
Heading: 312*
Distance: 43.8 NM
Altitude: 1200 - 1200
Comments: This is the longest leg of the trip. Sit back and relax and enjoy the beautiful Alaskan scenery to both sides of the Stephens Passage.
Stephens Passage is a channel in the Alexander Archipelago in the southeastern region of the U.S. state of Alaska. It runs between Admiralty Island to the west and the Alaska mainland and Douglas Island to the east, and is about 170 km (105 mi) long. Juneau, the capital of Alaska, is near the north end, on Gastineau Channel. Stephens Passage was named in 1794 by George Vancouver, probably for Sir Philip Stephens. It was first charted the same year by Joseph Whidbey, master of the HMS Discovery during Vancouver's 1791-95 expedition
Toward the end of the passage, you will see Grand Island in the middle of the passage. We will fly so Grand Island passes close by our port side. When we arrive at Arden Point at the end of the passage, we turn to port into the Gastineau Channel. Here's a little more information about Juneau while we fly this 43 mile leg:
The members of the Auke tribe of Tlingit Indians were the first settlers to the area that became Juneau. The land and the sea provided such an abundance of food and natural resources that these original settlers enjoyed a productive and creative lifestyle. The cultural heritage of all the Indian tribes of the Northwest Coastal areas is readily evident in Juneau and the surrounding area.
It was gold that spurred the birth of the town that was originally named Harrisburg, later renamed Juneau. The town was founded in 1880 by gold seekers Joe Juneau and Richard Harris. However, it was the Tlingit Chief Kowee that first pointed Harris and Juneau in the direction of Gold!
During the prime 60 years of gold mining in the area Juneau was home to three of the world's largest gold mines: The Alaska Juneau, and the Alaska Gastineau mine, on the Juneau side of the Channel and the Treadwell mine on the Douglas island side. The three produced $158 million worth of gold at a time when gold was priced between $20.00 and $35.00 an ounce. The Alaska Juneau mine closed during WWII as the cost of production became prohibitive. The Treadwell mine was flooded in 1917 and finally closed in 1922.
Joe Juneau continued his hunt for gold, heading for the Klondike in 1897. He died in Dawson in 1903 and his body was returned to Juneau to rest in the Evergreen Cemetery.
Richard Harris lost most of his holdings and went to work for various Juneau mining companies. He died in a sanitarium in Oregon in 1907. His body was also returned to Juneau and rests nearby that of Joe Juneau.
Chief Kowee received little or no credit for his part in the Juneau gold rush. He died in his home in Juneau's Indian Village in 1892. He was cremated, according to his wishes, at the entrance to Evergreen Cemetery. A bronze plaque marks that spot.
---
Leg #21: Arden Point to Juneau Harbor
Heading: 292*
Distance: 12 NM
Altitude: 1200 - 800 (Reduce Altitude)
Comments: Flying up the Gastineau Channel, we finally see Juneau on the starboard shore, about midway up the Channel. You can land ad Juneau Harbor ... there are excellent sea plane and harbor facilities there if you have a float plane or an amphibian. Otherwise, continue on to Juneau International, about 5 miles beyond.
---
Leg #22: Juneau Harbor to PAJN Approach
Heading: 286*
Distance: 4 NM
Altitude: 800 - 800
Comments: You should be preparing for landing, the Juneau International airport is only a few miles ahead.
---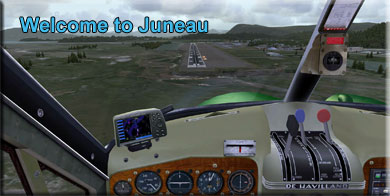 Leg #23: PAJN Approach to Juneau International (PAJN)
Heading: 254*
Distance: 1.7 NM
Altitude: 800 - Landing
Comments: Welcome to Juneau!
---