Northern Connections Trilogy
Part III - Whitehorse to Wasilla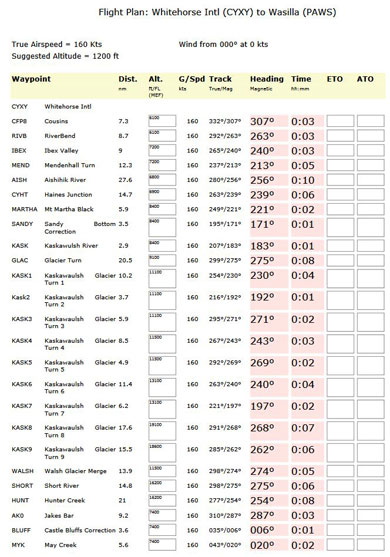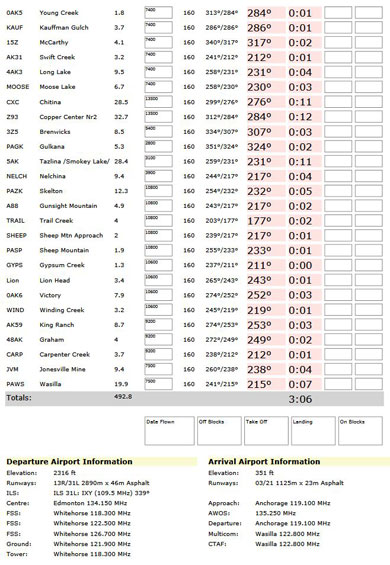 (Click on either image above to enlarge)
Dispatch Setup
Suggested Altitude: Varies with Leg
Landing zone is: Dirt, Grass, Tarmac
Aircraft Type: Wheel or Tundra
Distance approximately: 492 Miles
Flight-Seeing Flight Plan HERE
Dispatch
FAQ Usage HERE
Scenery Needed:
---
Dispatch Overview
Return to Misty Moorings (RTMM) now covers a far larger area with the new software area additions. The "Northern Collections Trilogy" dispatches connect all three areas. Part I is a route from Ketchikan (PAKT) to Juneau (PAJN). Part II is a route from Juneau to Whitehorse (CYXY). Part III is a route from Whitehorse to Wasilla (PAWS).
This Dispatch is for Part III. It begins in Whitehorse and takes a generally westerly route over the interior ice fields of the Wrangell-St Elias Preserve, then onto the flat highlands west of the Anchorage area and eventually into the Anchorage area ending at Wasilla (PAWS). This is a long journey and the altitude starts at about 3600 feet, goes up to nearly 10,000 feet to follow the glaciers, then back down to the flatlands to about 2800 feet.
The area covered now by RTMM is literally "vast." Flying "The Northern Connection Dispatches" gives the SIM pilot a far better understanding of the size of the territory and the amazing differences in topography. Flying all three of the "Northern Connections" routes will give you a far better understanding of the Land beneath the wings of the RTMM SIM pilot.
NOTAM: This is an "flight-seeing-friendly" flight plan. As long as you control the altitude as listed on each leg of the Trip Ticket, the aircraft will perfectly fly the route so you can sit back and enjoy the amazing view.
---
Leg #1: Whitehorse (CYXY) to Cousins (CFPS)
Distance: 7.3 NM
Heading: 307*
Altitude: 000 - 3600

Comments: We start off in Whitehorse, Yukon Territory in Canada. As we fly toward Cousins (CFPS), we see the Tikihini River come into view from ahead and starboard. The altitudes at the various way points will keep you at about 1200 feet above the terrain. When you cross over Cousins, you are ready to move on to Leg #2.
Yukon History: European incursions into what later became the Yukon started in the first half of the 19th century with the fur trade. Hudson's Bay Company explorers and traders from Mackenzie River trading posts used two different routes to enter Yukon and created trading posts along the way. The northern route started in Fort McPherson, Northwest Territories along the Mackenzie River, crossed the mountains into the Bell and Porcupine Rivers to the Yukon River. The southern route started at Fort Liard, Northwest Territories, then westward along the Liard River to Frances Lake and then along the Pelly River to its juncture with Yukon River.
After establishing Fort McPherson, Northwest Territories, John Bell crossed the mountains into Yukon River watershed in 1845, and went down the Rat River (today the Bell River) to its confluence with the Porcupine River. After managing the fur trade at Fort McPherson, he returned to the Bell River, and followed the Porcupine to its juncture with Yukon River, the eventual site of Fort Yukon. Soon after, Alexander Hunter Murray established trading posts at Lapierre House (1846) and at Fort Yukon (1847) at the juncture of the Porcupine and Yukon Rivers. Murray drew numerous sketches of fur trade posts and of people and wrote the Journal of Yukon, 1847–48, which give valuable insight into the culture of local Gwich'in First Nation people at the time.
---
Leg #2: Cousins (CFPS) to Riverbend
Distance: 8.7 NM
Heading: 263*
Altitude: 3600 - 3600

Comments: Anglican and Roman Catholic missionaries followed in the wake of the fur trade. Of note is William Carpenter Bompas who became the first Anglican bishop of the Yukon. Catholic missionaries were mainly from the order of Missionary Oblates of Mary Immaculate, who still retain a presence in the Yukon today.
In 1859, Robert Kennicott set off on an expedition to collect natural history specimens in what is now the Mackenzie River and Yukon River valleys and in the Arctic tundra beyond. Kenicott became popular with Hudson's Bay Company fur traders in the area and encouraged them to collect and send natural history specimens and First Nations artifacts to the Smithsonian. In 1865 the Western Union Telegraph Expedition was mounted to find a possible route for a telegraph line between North America and Russia by way of the Bering Sea. Kennicott was the chief scientist for this expedition and the party of naturalists sent to assist him included W.H. Dall. Kennicott died of a heart attack while travelling up the Yukon River. However, Kennicott's efforts brought what is now the Yukon to the world's attention.
---
Leg #3 : Riverbend to Ibex Valley
Distance: 9 NM
Heading: 240
Altitude: 3600 - 3600

Comments: Ibex Valley is an incorporated hamlet in Canada's Yukon. Population in 2001 according to the Canada 2001 Census was 315. Ibex Valley comprises residential areas along the Alaska Highway immediately outside the Whitehorse city limits as far as approximately historical mile 945, as well as a small number of sideroads, including a five-mile loop of the original Alaska Highway alignment from Mile 929 to 934. The hamlet is part of the Whitehorse Census Agglomeration. Seventy percent of the population is non-aboriginal. Ibex Valley has a volunteer fire department. While most residents work in Whitehorse, some residents are engaged in agriculture or wilderness tourism activities.
---
Leg #4: Ibex River to Mendenhall Turn
Distance:12.3
Heading: 213*
Altitude: 3600 - 3700 (plus 100)

Comments: We are following the Takhini River Basin. The Takhini River is a watercourse in Yukon, Canada. The river is located just north of Whitehorse, Yukon, and flows from west to east, meeting the Yukon River at a point between Whitehorse and Lake Laberge. During the winter, the river freezes and serves as part of the route of the Yukon Quest sled dog race. The Alaska Highway parallels the Takhini River, and the Klondike Highway crosses it near its junction with the Yukon. The river is a popular tourist destination and particularly popular with kayakers and canoeists.
---
Leg #5: Mendenhall Turn to Aishihik River
Distance: 27.6 NM
Heading: 256*
Altitude: 3700 - 3700

Comments: You will notice a highway below you, this is the Alaska Highway and you will follow it, more or less, until we get to the ice fields many miles ahead.
The Aishihik River, your next way point ahead, comes in from starboard. The Aishihik River, also known as Canyon Creek, is a river in the Yukon Territory of Canada. Originating in Aishihik Lake, it flows south into the Dezadeash River, part of the Alsek River watershed. Otter Falls, located on the Aishihik River, were pictured on the reverse of the 1954 series of Canadian $5 bills. Flows on the northern portion of the river, including Otter Falls, are considerably reduced because of a hydroelectric dam and station owned by the Yukon Energy Corporation. The Aishihik Road mainly follows the river. The river crosses the Alaska Highway at small outpost called Canyon Creek, Yukon, where one of the original wooden bridges of the Alaska Highway still stands.
---
Leg #6: Aishihik River to Haines Junction (CYHT)
Distance: 14.7
Heading: 239
Altitude: 3700-3700

Comments: This is the home of the Southern Tutchone People. The region of present day Haines Junction is Southern Tutchone territory. For many thousands of years there were seasonal hunting and fishing camps in the area. It was a tenuous life and the location of camps fluctuated over this stretch of time with the ever-changing landscape. "Dakwakada", a Southern Tutchone word meaning "high cache", was the original name for the site of Haines Junction. It was common for Southern Tutchone people to use raised log caches to store food year-round, or temporarily while they hunted and fished in an area.
This region was also an important travel and trade route for First Nations. Its proximity to the Chilkat Pass, one of only three passes that allowed travel between the coast and the interior, made for extensive use by coastal Tlingit and Southern Tutchone people; there were a number of trading settlements, and well-travelled trails led in all directions. The establishment of Haines Junction dates back to 1942 and the construction of the Alaska Highway during WWII. The following year a branch road was built from Haines, Alaska over Chilkat Pass to join the Alaska Highway. Portions of ancient travel routes became pioneer roads built for vehicle traffic. Situated at the junction of these two roads, Haines Junction was a construction camp and an important supply and service centre for the U.S. Army Corps of Engineers building the highway.
In the same year as the construction of the highway, the Kluane Game Sanctuary was established. In 1972 most of it was designated the Kluane National Park Reserve. The park is administered in Haines Junction and the community became the main staging area for trips into this amazing wilderness park. Haines Junction has evolved from a construction camp and service centre into a global village of over 810 culturally diverse people. About half of our community are Champagne and Aishihik First Nations –Southern Tutchone people, whose main administration centre is located in the Village.
First Nations continue to use the land in their traditional ways: hunting, trapping and fishing. They have also developed community investments in business, tourism and cultural ventures. The rest of our residents are a mix of other Yukoners and people from across Canada, the U.S. and overseas who have chosen to make Haines Junction their home. Many made the choice because of the natural environment and have developed a strong sense of stewardship for the spectacular landscape at our doorstep.
---
Leg #7: Haines Junction to Mt. Martha Black
Distance: 5.9 NM
Heading: 271*
Altitude: 3700 - 3700

Comments: Mount Martha Black is a 7,069 ft / 2,155 m mountain peak near Haines Junction, Yukon, Canada. Based on peakery data, it ranks as the 89th highest mountain in Yukon and the 3111th highest mountain in Canada. The nearest peaks are Mount Worthington, Profile Mountain, Mount Archibald, Mount Decoeli, Paint Mountain, and King's Throne Peak.
We will be rounding the mountain keeping it to our port side.
---
Leg #8: Martha Black to Sandy Bottom Correction
Distance: 3.5 NM
Heading: 171*
Altitude: 3700-3700

Comments: This is only a slight course correction to keep you away from the ridge to starboard.
---
Leg #9: Sandy Bottom to Kaskawulsh River
Distance: 2.9
Heading: 183*
Altitude: 3700-3700

Comments: This sandy area is the runoff area from the Kaskawulsh Glacier ahead. The flow is toward you emptying into the Dazadeash River you just passed. About halfway along this leg, you will see the Jarvis River coming in from Starboard to join the Kaskawulsh.
---
The Kaskawulsh Glacier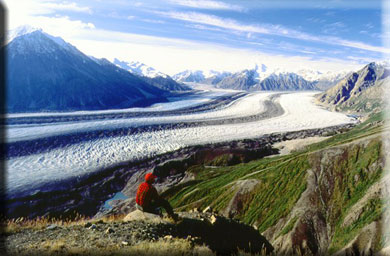 Leg #10: Kaskawulsh River to Glacier Turn
Distance: 20.5 NM
Heading: 275*
Altitude: 3700 - 3700

Comments: This is a turn in the Kaskawulsh River basin that turns you toward your first view of the great glacier ahead that we are going to climb and go over ... the Kaskawulsh Glacier.
---
Leg #11: Glacier Turn to KASK1 (Turn 1)
Distance: 10.2 NM
Heading: 230*
Altitude: 3700 - 5800 (Increase to 5800)

Comments: You are approaching the Kaskawulsh Glacier. In preparation for the climb to its summit, you should increase your altitude to cross the foot of the glacier at 4100 feet and cross the next way point (KASK1) at 5800 feet.
---
Leg #12: KASK1 to KASK2 (Turn 2)
Distance: 3.7 NM
Heading: 192*
Altitude: 5800 - 6300 (Increase Altitude to 6300)

Comments: At KASK1, as you turn a little to port, increase your altitude setting to 6300 feet. You will want to cross KASK2 at 6300 feet. (This keeps you about 1200 feet above the glacier). On this leg, you will approach a "Y" turn. Take leg to the starboard side of the dividing peak ahead.
---
Leg #13: KASK2 to KASK3 (Turn 3)
Distance: 5.9 NM
Heading: 271*
Altitude: 6300-6500 (Increase Altitude to 6500)

Comments: Adjust your heading to 271 and increase your altitude to cross KASK3 at 6500 feet.
---
Leg #14: KASK3 to KASK4 (Turn 4)
Distance: 8.5 NM
Heading: 243*
Altitude: 6500 - 8300 (Increase Altitude to 8300)

Comments: You will want to cross way point KASK4 at 8300 feet, so climb rather steeply. You have 8 miles to go up 1700 feet.
---
Leg #15: KASK4 to KASK5
Distance: 4.9 NM
Heading: 269*
Altitude: 8300 - 9300 (Increase Altitude to 9300)

Comments: We are nearing the summit of the Kaskawulsh Glacier. You will want to cross KASK5 at 9300 feet. This too is an aggressive altitude change, begin it immediately.
---
Leg #16: KASK5 to KASK6
Distance: 11.4 NM
Heading: 240*
Altitude: 9300 - 9700 (Increase to 9700)

Comments: You are now crossing the summit of this great glacier. You'll want to increase your altitude by about 400 feet, just to be safe. You will cross over the summit and the decline in topography will begin.
---
Leg #17: KASK6 to KASK7
Distance: 6.2 NM
Heading: 197*
Altitude: 9700 - 8100 (Decrease Altitude to 8500)

Comments: You are now descending, having passed the summit. Reduce your speed a little to compensate and set your altitude to be at 8500 feet in 6 miles. (Again, these suggested altitudes keep you about 1200 feet above the ice).
You are now on the Logan Glacier, having crossed over at the summit just behind you.
---
Leg #18: KASK7 to KASK8
Distance: 17.6
Heading: 268*
Altitude: 8500 - 7800 (Gradually Decrease Altitude)

Comments: This is a long leg, so decrease your altitude more gradually as the slope is not great on this area of the glacier.
---
Leg #19: KASK8 to KASK9
Distance: 15 NM
Heading: 262*
Altitude: 7800 - 6000 (Gently Decrease Altitude)

Comments: You are continuing to descend. You are still on the Logan Glacier. The Walsh Glacier is running parallel to you just over the ridge to your starboard side. It will eventually merge with Logan a few miles ahead.
Welcome to the USA - at this way point, you are crossing from Canada into the USA (got your passport?)
---
Leg #20: KASK9 to Walsh Glacier Merge
Distance: 13.9 NM
Heading: 274*
Altitude: 6000 - 4600

Comments: The Walsh Glacier merges with the Logan. You will see it coming in from Starboard when the ridge diminishes. Be at about 4600 feet when you see the glaciers merging.
---
Leg #21: Walsh Glacier Merge to Short River
Distance: 14.8 NM
Heading: 275
Altitude: 4600 - 2800

Comments: You reach the foot of the glacier on this leg. You will see Marble Creek to your left. You will notice several creeks running parallel, they are Marble, Granite Creek, Lime Creek, Iron Creek and finally Short River.
---
Leg #22: Short River to Hunter Creek
Distance: 21
Heading: 254*
Altitude: 2800 - 2800

Comments: You will see Gibraltar Hill to starboard as you fly this leg, it is an interesting upheaval of land in the river. A little further ahead, you will pass over Bear Island in the center of the sandy riverbed. To the starboard of Bear Island, on the shore is the famous Ultimate Thule Lodge. Continue to Hunter Creek.
---
Leg #23: Hunter Creek to Jake's Bar
Distance: 9.2 NM
Heading: 287*
Altitude: 2800 - 2800

Comments: To starboard, the ridge there is called Castle Bluffs.
---
Leg #24: Jake's Bar to Castle Bluffs Correction
Distance: 3.6 NM
Heading: 006*
Altitude: 2800 - 2900 (Increase Altitude)

Comments: We will make a slight correction to go around the edge of the base of Castle Bluffs.
---
Leg #25: Castle Bluffs Correction to May Creek (MYK)
Distance: 5.6 NM
Heading: 020*
Altitude: 2900 - 3200 (Increase Altitude)

Comments: This heading lines you up for approaching the May Creek airstrip. The terrain rises a little in this area, so increase your altitude a few hundred feet as needed.
---
Leg #26: May Creek to Young Creek (0AK5)
Distance: 1.8 NM
Heading: 284*
Altitude: 3200 - 3200

Comments: Very short leg, sharp left turn to Young Creek airstrip.
---
Leg #27: Young Creek to Kauffman Gulch
Distance: 3.7 NM
Heading: 286*
Altitude: 3200 - 3200

Comments: A short for a route correction around a ridge, then on to McCarthy.
---
Leg #28: Kauffman Gulch to McCarthy (15Z)
Distance: 3.7 NM
Heading: 286*
Altitude: 3200 - 3200

Comments: For centuries, Athabascans hunted in the area of McCarthy. Chief Nikolai and his band of Athabaskan Natives had a summer camp at Dan Creek, 15 miles east of McCarthy, where they collected copper nuggets from Dan Creek. Their permanent camp was on the Copper River at the village of Taral near Chitina where they fished for salmon. Copper was discovered between the Kennicott Glacier and McCarthy Creek in 1900, after which Kennecott mines, Kennecott Mining Company, and company town of Kennecott were created. Due to a clerical error, the corporation and town used the spelling of "Kennecott" instead of "Kennicott," named for Kennicott Glacier in the valley below the town. The glacier was named after Robert Kennicott, a naturalist who explored in Alaska in the mid-1800s.
Partly because alcoholic beverages and prostitution were forbidden in Kennicott, McCarthy grew as an area to provide illicit services not available in the company town. It grew quickly into a major town with a gymnasium, a hospital, a school, a bar and a brothel. The Copper River and Northwestern Railway reached McCarthy in 1911. The bulk of McCarthy's main road In 1938 the copper deposits were mostly gone and the town was mostly abandoned. The railroad discontinued service that year. Over its 30-year operation, U.S. $200 million in ore was extracted from the mine, making it the richest concentration of copper ore in the world.
The population of McCarthy and Kennecott fell to almost zero until the 1970s, when the area began to draw young people from the many who came to Alaska in the 70's for adventure and the big money of the Trans Alaska Pipeline project. In the 80's, after the area was designated Wrangell-St. Elias National Park (1980), it began to draw some adventurous tourists to the new national park. The few people that lived there began to provide a variety of tourist services. There was always at least one family living in the McCarthy area from 1953 to the present day. The old mine buildings, artifacts, and colorful history attract visitors during the summer months. The Kennecott and McCarthy area ranks as one of the United State's most endangered landmarks by the National Trust for Historic Places. Emergency stabilization of the old buildings has been done and more will be required.
In an attempt to disrupt the Alaska pipeline, 39-year-old Louis D. Hastings, armed with a .223-caliber Ruger Mini-14 semi-automatic rifle, murdered six of the 22 citizens of McCarthy on March 1, 1983. The victims were Maxine Edwards, Harely King, Les and Flo Hegland, and Tim and Amy Nash. He also wounded two people. In July 1984, Hastings was sentenced to 634 years in prison.
---
Leg #29: McCarthy to Swift Creek (AK31)
Distance: 3.2 NM
Heading: 212*
Altitude: 3200 - 3200

Comments: The search for gold in Alaska has been going on for at least the past one hundred sixty years. Many large gold nuggets have been found but it wasn't until 1998 that Barry Clay located Alaska's largest gold nugget ever . It weighed over 294 troy ounces and was discovered at Barry's Swift Creek Mine in the Long / Poorman area near Ruby Alaska.
---
Leg #30: Swift Creek to Long Lake (4AK3)
Distance: 9.5 NM
Heading: 231*
Altitude: 3200 - 3200

Comments: The Long Lake area has many outfitters and fishing guides. There is great hiking and camping nearby.
---
Leg #31: Long Lake to Moose Lake
Distance: 6.7 NM
Heading: 230*
Altitude: 3200 - 3200

Comments: Moose Lake is a route/turn correction to line you up with Chitina (CXC) airstrip 7 miles ahead. The river you are following out the port window is the Lakina River.
If you've been whitewater rafting and kayaking outside this state you might find the rivers here a bit more challenging, so if you're visiting here do keep in mind that rivers here are not as easy as elsewhere. Getting your paddling muscles activated and spending some quality time in nature are great attractions for lots of people. There aren't any hotels right nearby but if you're willing to drive a short distance then no problem but you'd better reserve in advance because these hotels fill up quick. The beautiful scenery of Alaska and the playfulness of the water are in themselves reasons enough to come here to paddle. There's camping available near Lakina River.
You can enjoy this section more if you take your time, so go ahead and pack your camping stuff. This section of Lakina River in Alaska is 11.25 miles long and is rated by American whitewater as a class III+ section. The wild scenery of the Wrangell Mountains is great. This is one of a small number of paddling stretches in this river system, there are a few others too. No matter if you're whitewater rafting or kayaking around here you'll find a large number of good places.
---
Leg #32: Moose Lake to Chitina (CXC)
Distance: 28.6 NM
Heading: 276*
Altitude: 3200 - 3200

Comments: Watch for the Galihina Bluff that is ahead. Your GPS should guide you safely past it, but it is 100 feet above your present altitude of 3200.
Athabascans have lived in the area around Chitina for centuries as evidenced by the archaeological sites south and east of Chitina. Before 1900, Chitina was the site of large village whose population was slowly decimated by the influx of people, disease and conflicts.
Copper ore was discovered in about 1900 along the northern edge of the Chitina River valley. This brought a rush of prospectors and homesteaders to the area. The Copper River and Northwestern Railway enabled Chitina to develop into a thriving community by 1914. It had a general store, a clothing store, a meat market, stables, a tinsmith, five hotels, several rooming houses, a pool hall, bars, restaurants, dance halls and a movie theater. The mines closed in 1938 and the remaining support activities moved to what is now the Glennallen area. Chitina became a virtual ghost town. Otto Adrian Nelson, a surveying engineer for the Kennecott Mines, eventually bought up much of the town. He built a unique hydroelectric system that supplied electric power to all his buildings. He also supplied much of the town center with hot and cold running water.
Current activity in Chitina revolves around the dipnet fishing for salmon that occurs every summer. Alaskans are allowed to dip a large number of salmon during their spawning runs and Chitina is an accessible and popular place for this activity.
In late 1977, jeweler Art Koeninger purchased the "Chitina Tin Shop" with the intention of turning it into a residence. In 1979, the site, formerly known as "Fred's Place" and "Schaupp's," was placed on the National Register of Historic Places and has won two historic preservation grants. It currently houses the Spirit Mountain Artworks.
---
Leg #33: Chitina to Copper Center (Z93)
Distance: 32.7 NM
Heading: 284*
Altitude: 3200 - 3200

Comments: This area will give you a feeling for the vastness of the plains east of the Anchorage area ... they go on to the horizon!
Copper Center developed where the Valdez Glacier trail reached the Copper River. Andrew Holman was its first resident, establishing a temporary roadhouse near the site in July 1898 to provide shelter for prospectors on their way to the Klondike. He initially erected two tents: one served as Hotel Holman and the other as a makeshift post office. By winter 1899, Holman had replaced his tents with a substantial cabin. Leaving Dick Worthman to run the roadhouse, Holman pioneered the first mail route from Valdez to Eagle.
During the height of the Klondike stampede prospectors set up tent camps along both the Copper and Klutina rivers, but the first cabins were built on a site one half mile west of the Copper. Another camp sprang up at what was called Copper Ferry, where a ferry crossed the river. The area got a boost as a gold field service center in June 1898, when B. F. Millard brushed a trail from there to the mouth of the Slana River via the foothills of Mt. Drum.
The east bank site of Old Copper Center apparently was settled in 1901 1902 by prospectors intent on investigating mineral prospects on that side of the river. Its days as a mining center were short lived, but it did draw a Native population and existed for many years as a village.
Copper Center rapidly became the primary supply center for prospectors and travelers in the Copper River basin. A telegraph station and the trail's first official post office opened in 1901, with Ringwald Blix serving as the community's first postmaster. The next year, John McCrary staked a homestead about a mile north of the Klutina River crossing. Before long, McCrary opened a hotel as well, the first frame roadhouse between Valdez and Fairbanks. Much of McCrary's property remains in the family's hands.
By 1910 American settlers had established over fifty homesteads in the vicinity. The community now received tri-weekly mail delivery in the winter and weekly service in the summer. It also contained the only telegraph station between Valdez and Fairbanks where money could be sent or received by wire.
Florence "Ma" Barnes acquired Hotel Holman in 1922, and renamed it the Copper Center Roadhouse and Trading Post. The original building burned in 1932 and was replaced by the southernmost portion of the current one. When Barnes died in 1948, she left her entire estate to a Valdez orphanage. Later that year, it sold George Ashby the property. Although Ashby died in 1979, his family continued to operate the roadhouse. The replacement roadhouse itself burned on May 20, 2012. The family says they intend to rebuild.
---
Leg #34: Copper Center to Brenwicks (3Z5)
Distance: 8.5 NM
Heading: 307
Altitude: 3200 - 3200

Comments: The Tazlina River is in this area and is one of the main attractions. The rivers for whitewater rafting and kayaking in this state are often tougher than in other states, so don't forget that lots of rivers here are not for beginners. The nature scenery of Valdez-Cordova Census Area Borough and the sparkling of the sunlight on the water are reasons enough to come here and paddle. The Tazlina Lake to Copper River section of Tazlina River in Alaska is 45 miles long and has been rated as a class II+(III) section by American Whitewater. A good workout and just being out on the river for a while will make you glad you came. This river system has a few good paddling sections and the Tazlina Lake to Copper River section is one of them.
You might have to settle for a hotel a bit away from the river if you want to stay the night, but you'd better reserve in advance because these hotels fill up quick. You can pitch a tent or park your RV at a nearby campground. Some people prefer whitewater rafting and some kayaking, either way there are not so many other good places for that around here. There is a good hiking trail in close proximity to Tazlina River called the Klutina Lake Trail. Through the warm months at Tazlina River temperatures are typically in the 70's. Summer night lows drop down to the 40's. During the wintertime highs are ordinarily in the 0's, and nighttime lows all through the winter for Tazlina River tend to be in the-20's. Around Tazlina River you don't get a lot of precipitation. Of all the months in a year July is the one with the most rain, and the driest month is April.
---
Leg #35: Brenwicks to Gulkana (PAGK)
Distance: 5.3 NM
Heading: 324
Altitude: 3200 - 3200

Comments: On this GPS heading you are perfectly lined up for the runway at Gulkana, a nice place to stop and rest for a while if you like. A fully functional airport.
The Gulkana glacier is not far from this fine airport. From it flows the beautiful Gulkana river. The Gulkana is one of the most popular sportfishing rivers in Alaska, providing rich habitat for rainbow trout, arctic grayling, king salmon, red salmon, whitefish, longnose suckers, and lamprey. A poplular river for fisherman and boaters in the summer, this river has also played an important role in the lives of the Ahtna, providing access to subsistence resources throughout history and pre-history. During winter months the frozen Gulkana River was historically used as an important travel route from the Copper River to the Tangle Lakes and what is now known as the Denali Highway area.
The Gulkana River Watershed drains approximately 2,140 square miles of Southcentral Alaska. The river begins in the Alaska Range near Summit Lake and flows south into the Copper River, eventually draining into Prince William Sound. Several hundred lakes and ponds are scattered throughout the spruce-dominated forest of the Gulkana River Watershed, providing abundant nesting areas for trumpeter swans and waterfowl.
The most popular Gulkana River float trip begins at BLM's Paxson Lake Campground boat launch located at mp 175 of the Richardson Highway. This 47 river mile float meanders 20 river miles before reaching the Class III - IV Canyon Rapids. Take-out signs mark the portage on the left side of the river. Only experienced whitewater boaters should attempt to navigate the remote Canyon Rapids! This river trip ends at BLM's Sourdough Creek Campground at mp 147.5 of the Richardson Highway. Floaters should plan a minimum of 3 days to complete their journey.
---
Leg #36: Gulkana to Tazlina (5AK)
Distance: 28.4 NM
Heading: 231*
Altitude: 3200 - 3600 (Increase Altitude)

Comments: The topography rises a little through this area, you are safer flying at 3600 feet to maintain about a 1200 foot cushion from the ground.
---
Leg #37: Tazlina to Nelchina
Distance: 9.4 NM
Heading: 217*
Altitude: 3600 - 3600

Comments: Nelchina is an Athabascan Indian name. Gold in the creeks draining from Chugach Mountains brought prospectors to this area in the late 1800s. Nelchina area offered several trails into the mountains. Nelchina was a mining settlement established in 1913. It was first reported by Theodore Chaplin in a 1915 USGS publication.
---
Leg #38: Nelchina to Skelton (PAZK)
Distance: 9.4 NM
Heading: 232*
Altitude: 3600 - 4300 (Increase Altitude)

Comments: Again the terrain rises a little, increase your altitude to 4300.
---
Leg #39: Skelton to Gunsight Mtn (A88)
Distance: 4.9 NM
Heading: 217*
Altitude: 4300 - 4300

Comments: Only 5 miles to the Gunsight Mtn airstrip. Maintain 4300 altitude.
---
Leg #40: Gunsight Mtn to Trail Creek
Distance: 4.9
Heading: 217*
Altitude: 4300 - 4300

Comments: Another short leg of only 5 miles. We are flying around Sheep Mountain to head for the Sheep Mountain airport.
---
Leg #41: Trail Creek to Sheep Mtn Approach
Distance: 2 NM
Heading: 217*
Altitude: 4300 - 4300

Comments: Continues around Sheep Mountain lining up for the Sheep Mountain Airstrip.
---
Leg #42: Sheep Mtn Approach to Sheep Mtn (PASP)
Distance: 1.9
Heading: 233*
Altitude: 4300 - 4300

Comments: This is the approach to Sheep Mountain (PASP).
---
Leg #43: Sheep Mtn to Gypsum Creek
Distance: 1.3 NM
Heading: 211*
Altitude: 4300 - 4300

Comments: Takes the route through Jackass Canyon ahead.
---
Leg #44: Gpysum Creek to Lion Head
Distance: 3.4 NM
Heading: 243*
Altitude: 4300 - 4300

Comments: Watch for the Lion Head ahead to port. An interesting bulge in the area.
---
Leg #45: Lion Head to Victory (0AK6)
Distance: 7.9 NM
Heading: 252*
Altitude: 4300 - 4300

Comments:
---
Leg #46: Victory to Winding Creek
Distance: 3.2 NM
Heading: 219*
Altitude: 4300 - 3800 (Reduce Altitude)

Comments: Reduce Altitude, the next way point is only 3.2 miles ahead.
---
Leg #47: Winding Creek to King Ranch (AK59)
Distance: 8.7 NM
Heading: 253*
Altitude: 3800 - 2500

Comments: Reduce altitude but watch for ridges on each side of your course.
---
Leg #48: King Ranch to Graham (48AK)
Distance: 4.0 NM
Heading: 249*
Altitude: 2500 - 2500

Comments: Maintain Altitude
---
Leg #49: Graham to Carpenter Creek
Distance: 3.7 NM
Heading: 212*
Altitude: 2500 - 2500

Comments: Maintain Altitude
---
Leg #50: Carpenter Creek to Jonesville Mine (JVM)
Distance: 9.4 NM
Heading: 238*
Altitude: 2500 - 2500

Comments: Maintain Altitude
---
Leg #51: Jonesville Mine to Wasilla (PAWS)
Distance: 19.9 NM
Heading: 215*
Altitude: 2500 - 0 (Landing)

Comments: This is the final leg taking you over the suburbs of Anchorage to PAWS, the Wasilla Airport where we will land. If you have the Misty Moorings Air Taxi scenery loaded, you can taxi up to the building at the airport and a fresh cup of coffee awaits you! Welcome home.
---
Hope You Enjoyed Your Trip