Destination: Aiken Creek Camp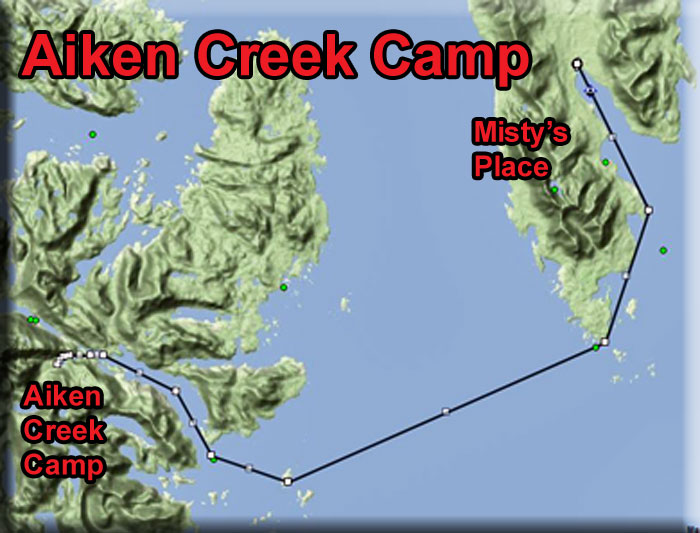 Route Notes
This Scenery is for "Return to Misty Moorings" only.
Suggested Altitude: 1200 Feet
Landing zone is: Water, does not freeze in winter
GPS for destination: N55 7.18 - W132 12.19
Distance approximately: 25 miles
Download PRINT-ABLE copy HERE
Flight-Seeing Flight Plan & Map HERE
Scenery Needed: Aiken Creek Camp
---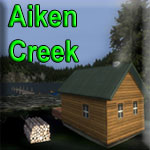 Aiken Creel Camp
You will find this little camp situated at a small extension (Aiken Cove) of the north arm of Moira Sound on Prince of Wales Island. This camp has a very tricky approach partly because of the narrow and turning landing zone. As you approach the landing zone look for the red and green channel buoys and follow them to the destination.
---
WaveTop VFR Plan
FROM : Misty's Place PF20
TO: Aiken Creek Camp
Flight Overview: This is a relatively easy flight until the end, it gets more and more dangerous as you approach your destination. Carefully read over the NOTAMs and know what you are doing before you attempt this flight!
NOTAM: Landing zone is sharp left turn at low speed and altitude.
Leg: Misty's Place to Seal Rocks
Initial Course: 132
Leg Distance: 4.5 miles
Line up on Rwy 17 (up by the white cottage) at Misty's Place. When you lift off, turn to port and fly out over Bostwick Inlet. (Watch out for the birds always flying around the Misty Point Lighthouse.
Fly the starboard side of the inlet over Misty's Old Yacht Club on a heading of 132 to Seal Rocks, some tiny islands at the entrance of Bostwick Inlet on our starboard side.
At Nichols Passage, the body of water ahead, we'll be turning to starboard, so line up on Seal Cove Rocks as your first waypoint Seal Rocks.
Leg: Seal Rocks to Dall Head
Leg Heading: 132
Leg Distance: 4 Miles
Over Seal Rocks, set a heading of 132 for Dall Head, about
We are now crossing the southern tip of Gravinia Island.

Gravina Island is an island in the Gravina Islands of the Alexander Archipelago in southeastern Alaska. It is 21 miles (34 km) long and about 9.5 miles (15.3 km) wide, with a land area of 94.81 square miles (245.6 km2). The island had a population of 50 people at the 2000 census.

The Spanish explorer Jacinto Caamaño named the Gravina Islands group in 1792. George Vancouver applied the name to Gravina Island itself in 1793. The name honors Federico Carlos Gravina y Nápoli.

Ketchikan International Airport is located on Gravina Island across the Tongass Narrows (1/2 mile) from Ketchikan and is reached by a ferry service which takes between three and seven minutes and runs at least every half-hour.
You are flying over the Nichols Passage and Clarence Strait is the body of water beyond Dall Head.
Leg: Dall Head to Moria Sound
Leg Heading: 220
Leg Distance: 14 Miles
Over Dall Head, set a course of 220 for about 14 miles. This will take you into the heart of Moira Sound.
Prince of Wales Island. The island ahead of you is 135 miles (217 km) long, 45 miles (72 km) wide and has an area of 2,577 sq mi (6,674 km2), about 1/10 the size of Ireland and slightly larger than the State of Delaware. Approximately 6,000 people live on the island.

Craig is the largest community, founded as a saltery in the early 20th century, it has a population of 1,000. Some 750 people live in Klawock, a long-established village that grew with the fishing industry. Hollis was a boom and bust mining town from 1900 to about 1915, abandoned, it was re-established as a logging camp in the '50s, and now has a population of 100. Hollis is where the ferry terminal is located, one hour drive from Craig and a three-hour trip to Ketchikan.

Fjords, steep-sided mountains, and dense forests characterize the island. Extensive tracts of limestone include karst features such as El Capitan Pit, at 598.3 feet (182.4 m) the deepest vertical shaft in the United States.
As you approach Moria Sound, there are several islands at the mouth of the sound. The larger one that comes first on your port wing will be Whiterock Island. The similar sized island a mile further and more to starboard is Moria Island.

Course Adjustment: Adjust to fly over Moria Island.
Leg: Moria Island to North Arm
Leg Heading: 220
Leg Distance: 2.4 miles
Over Moria Island, set a heading of 220 that will turn you to starboard into the mouth of the North Arm, the inlet you see ahead when on that heading. The is a point of land stretching across most of the entrance, fly over that point into the heart of the North Arm.
NOTAM: Begin reducing altitude to 300 feet and getting into landing configuration.
Leg:North Arm Entrance to Diechman Island
Leg Heading: 309
Leg Distance: 2.2 Miles
Diechman Island shows up near the center of the arm. When you reach that island, turn to port to about 270.
NOTAM: Assume landing configuration, flaps speed, lower altitude to 300 feet.

Leg: Diechman Island to Aiken Cove Entrance
Leg Heading: 275
Leg Distance: 3.3 miles
The arm splits ahead, Nowinsky Cove is to starboard, you want to take the port branch toward Aiken Cove. You will see a line of tiny green marker buoys. You can follow them all the way to your destination. At the far end of the cove be ready to turn to port to follow Aiken Creek.

Leg: Aiken Cove to Aiken Creek Camp
Leg Heading: 231 (Follow the Cove)
Leg Distance: 2 miles

At the end of this cove, you will take a sharp turn to port to land in a short landing zone in front of the Aiken Creek Camp.

Welcome to Aiken Creek Camp!

Doug Linn
Charter Manager
Misty Moorings, Inc
contact@mistymoorings.com

(Revised 07.04.2012)
Copyright Return to Misty Moorings 2012

<! -----------------------------Trip Tic Info Above ------------------------->