Destination: Canoona Lake Fish Camp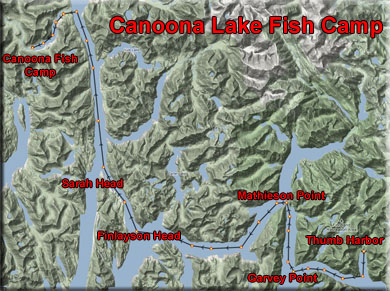 Route Briefing
This Scenery is for "Return to Misty Moorings" only.
Suggested Altitude: 800 to 1200 Feet
Landing zone is: Land or Water (does not freeze)
GPS for destination: N53 01.78 W128 38.65
Distance approximately: 45.8 Miles
Download PRINT-ABLE copy HERE
Flight-Seeing Flight Plan & Map HERE
Scenery Needed: Canoona Fish Camp
---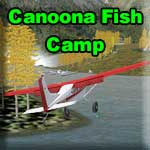 Canoona Lake Fish Camp
This is the first scenery for RTMM that has changing seasonal foliage. Read Instructions in Readme thoroughly. Canoona Lake Fish Camp has a short airstrip for bush pilots. Float Planes have a dock as well. Visitors here have plenty of fishing ahead of them. Not only is the lake a prime spot for anglers, but the trout and salmon runs on the river are fantastic.
From Wikipedia: The Canoona River is located on Princess Royal Island on the Inside Passage of British Columbia. The river spills into the ocean over a series of rapids from Canoona Lake. Fish ladders have been built on both sides of the rapids to help the salmon population return to their spawning areas upstream. The abundance of salmon make the Canoona River a popular place for the rare white Kermode or "Spirit" Bear, which is a sub-species of the Black Bear and not an albino as is commonly thought.
NOTAM: You will need both Canoona Fish Camp and Thumb Harbor for this trip ticket.
---
WaveTop VFR Plan
FROM : Thumb Harbor PF31
TO: Canoona Lake Fish Camp
---
Leg: Disbrisay Bay to Kynuch Inlet
Initial Course: 162
Leg Distance: 2.3 Miles
You will be placed on the water runway at Thumb Harbor. Before you take off, look around Thumb Harbor (An RTMM Location) and see some of the unique features put into the package there by Xavier Carre'. If you have an amphibian, try the ramp lifting yourself out of the water.
When you are ready to depart, set your heading for 162. You are in Disbrisay Bay and you are flying 2.3 miles ahead to the Kynuch Inlet, where you will turn to starboard.
Leg: Kynuch Inlet to Garvey Point
New Course: 260
Leg Distance: 5 Miles
When you reach Kynuch Inlet, turn to starboard to a new heading of approximately 260. THis is Kynuch Inlet and it is about 5 miles to the Mathieson Channel. Garvey Point is the point of land at the starboard end of the Kynuch Inlet. Prepare to fly around this point to starboard into the Mathieson Channel.
Leg: Garvey Point to Mathieson Point
New Course: 345 (Approximate, follow channel)
Leg Distance: 4.9 Miles
Turn to starboard over Garvey Point and come to a rough 345 heading to fly up the Mathieson Channel to the Mathieson Narrows. This leg is about 5 miles long. You will see the channel narrow ahead, the last sharp point of land to port is Mathieson Point. You will be taking a hard turn to port around this point.
Leg: Mathieson Point to Windy Bay
New Course: 200
Leg Distance: 4.4 Miles
You will round Mathieson Point to port coming to a rough heading of 130. Vary the heading depending upon the curvature of the channel ahead. this is Sheeps Passage and you will stay in this channel for about 4 miles. The passage will turn to starboard and you will see Windy Harbor to port. Follow the passage to starboard.
Leg: Windy Bay to Finlayson Head
New Course: 260 (Approximate, follow channel)
Leg Distance: 7.4 Miles
You are still flying in the Sheeps Passage. It makes some gentle turns and this leg is about 7 miles long. The final point of land to starboard will be Finlayson Head. We will be rounding this to starboard.
Leg: Finlayson Head to Sarah Head
New Course: 310
Leg Distance: 5.2 Miles
When you round the point of Finlayson Head to port, you are flying into the Heikish Narrows. Stay in the center of the narrows watching for the last point of land to port that will be Sarah Head. You will see Hewitt Island just before the head. Sarah Head is a sharp point of land. You will be turning a little to port at Sarah Head.
Leg: Sarah Head to Canoona Lake Outfall
New Course: 328 (Approximate, follow the channel)
Leg Distance: 11.2 miles
The channel you are now flying in is Graham reach. You will be going about 11 miles, your heading should be approximately 328, but follow the channel. As you near the Outfall of Canoona Lake, look for these three things:

1. Griffen Point, a small point of land jutting out from starboard.
2. The Khutze Inlet comes just past Griffin Point from Starboard.
3. Watch for a flattened area to port with what looks like a river running from it. This is the Canoona Lake Outfall and you will be turning to port and following the river to Canoona Lake.
Leg: Canoona Lake Outfall to Canoona Lake Fish Camp
New Course: 206
Leg Distance: 4 Miles
After you make the turn to follow the outfall to Canoona Lake, go into landing configuration and go to a landing altitude of about 500 feet. If you have an amphibian, there is a dirt runway, or if you are in a float, there is a good place to land with a pier. Follow the outfall, you will see the camp ahead. Watch for buoys in the lake as you land.
This is an excellent scenery location to explore, many things are included in this unique scenery package from Brad Allen.
---
Doug Linn
Charter Manager
Misty Moorings, Inc
contact@mistymoorings.com
(Revised 07.07.2012)
Copyright Return to Misty Moorings 2012
---