Destination: Miller Lake Cabin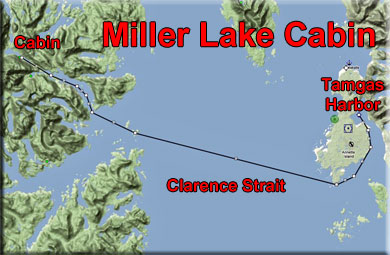 Click Map to Enlarge
Route Briefing
This Scenery is for "Return to Misty Moorings" only.
Suggested Altitude: 1200 Feet
Landing zone is: Water, does not freeze
GPS for destination: N55 8.43 - W132 13.33
Distance approximately: 29 Miles
Download PRINT-ABLE copy HERE
Flight-Seeing Flight Plan & Map HERE
Scenery Needed: PFJ and Miller Lake Cabin
---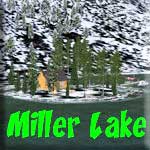 Miller Lake Cabin
Just a nice place to fly to while visiting the Prince of Wales area. This location is on an island in Miller Lake. It consists of a cabin, canoes ... just all those things you'd like to have when you go there in real time. It is about 2 miles from Aiken Creek Cabin and two miles from Dan's Hideaway. Visiting all three is makes a nice trip.
---
WaveTop VFR Plan
FROM : Tamgas Harbor (Z43)
TO: Miller Lake Cabin
---
Leg: Tamgas Harbor to Point Davidson
Initial Course: 124
Leg Distance: 7 Miles
Leg Altitude: 1200 Feet
You will be taking off toward Tent Point on a heading of 124. Then you will be following the coast of Annette Island to starboard, eventually coming to Point Davidson. Fly directly over the tiny spit of land on the southern most point of the island at Point Davidson, set your next heading from there.
Leg: Point Davidson to Whiterock Island
Initial Course: 263
Leg Distance: 14 Miles
Leg Altitude: 1200 Feet
You are heading to the entrance of Moira Sound. The first island you will encounter is Whiterock Island. The one just past it a little to starboard is Moira Island. You will make a turn over Whiterock Island.
We are flying over the Clarence Strait. The Clarence Strait, originally Duke of Clarence Strait, is a strait in southeastern Alaska, in the United States in the Alexander Archipelago. The strait separates Prince of Wales Island, on the west side, from Revillagigedo Island and Annette Island, on the east side. Clarence Strait is 126 miles (203 km) long, extending from Dixon Entrance to Sumner Strait.
Clarence Strait was named in 1793 by George Vancouver in honor of Prince William, Duke of Clarence. Jacinto Caamaño, who had explored the region a year before Vancouver, named the strait Entrada de Nuestra Senora del Carmen.
The Guard Island Light and Lincoln Rocks Light, both located adjacent to Clarence Strait, were important aids-to-navigation in the Clarence Strait area in the pre-automated era.
We are heading to the Prince of Wales Island. The island is 135 miles (217 km) long, 45 miles (72 km) wide and has an area of 2,577 sq mi (6,674 km2), about 1/10 the size of Ireland and slightly larger than the state of Delaware. Approximately 6,000 people live on the island. Craig is the largest community; founded as a saltery in the early 20th century, it has a population of 1,000. Some 750 people live in Klawock, a long-established village that grew with the fishing industry. Hollis was a boom and bust mining town from 1900 to about 1915; abandoned, it was re-established as a logging camp in the '50s, and now has a population of 100. Hollis is where the ferry terminal is located, one hour drive from Craig and a three-hour trip to Ketchikan.
Mountain peaks, all but the tallest of which were buried by Pleistocene glaciation, reach over 3,000 feet (914 m). Fjords, steep-sided mountains, and dense forests characterize the island. Extensive tracts of limestone include karst features such as El Capitan Pit, at 598.3 feet (182.4 m) the deepest vertical shaft in the United States. Moist, maritime conditions dominate the weather.
The Tongass National Forest covers most of the island. Within the forest and on the island are the Karta River Wilderness and the South Prince of Wales Wilderness. The Prince of Wales flying squirrel (Glaucomys sabrinus griseifrons) is found nowhere else.
Leg: Whiterock Island to Moira North Arm
Initial Course: 274
Leg Distance: 3.2 Miles
Leg Altitude: 1200 Feet
Over Whiterock Island set a heading of 274, just a little to starboard. You will find the entrance of the "North Arm" of Moira Sound. We will be turning into the North Arm.
Leg: North Arm to Miller Lake
Initial Course: 280
Leg Distance: 4 Miles
Leg Altitude: 1200 Feet

At the end of the arm, you will see Aiken Cove veering to port (Aiken Creek Cabin is in that direction). You will want to go straight ahead to Miller lake through the narrow valley there.
Leg: Miller Lake
Initial Course: 280
Leg Distance: 3 Miles
Leg Altitude: 1200 Feet
As you come over Miller Lake, go to landing configuration. the cabin is about half way down the lake on the port shore.
Welcome to Miller Lake Cabin!
---
Doug Linn
Charter Manager
Misty Moorings, Inc
contact@mistymoorings.com
(Added 07.11.2012)
Copyright Return to Misty Moorings 2012
---
<! -----------------------------Trip Tic Info Above ------------------------->