Destination: Ocean Falls, BC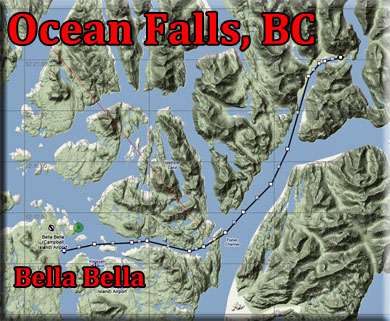 Click on Map To Enlarge
Route Briefing
This Scenery is for "Return to Misty Moorings" only.
Suggested Altitude: 1200 Feet
Landing zone is: Water - does not freeze in winter
GPS for destination: N52 21.09 - W127 41.48
Distance approximately: 23 Miles
Download PRINT-ABLE copy HERE
Flight-Seeing Flight Plan & Map HERE
Scenery Needed: Ocean Falls
---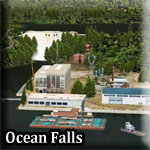 Click Picture to Enlarge
Ocean Falls, BC
We have tried to duplicate Ocean Falls, BC as closely as we can with the objects we have. There is a dam that back up a very beautiful lake (we'll put some cabins on it later for sure!). The dam has a generating station that produces electricity for the region. As you fly to this location, you'll notice many power line poles on the port shoreline ... all coming from Ocean falls.
It seems the cruise ships have discovered it too, as one is anchored in the cove allowing passengers to embark to shore to visit the dam and the shops in the town.
To see the real Ocean Falls, "Click Here"
---
WaveTop VFR Plan
FROM : Wiglisla SPB (Bella Bella BC - CAR9)
TO: Ocean Falls SPB (CAH2)
---
Leg: Wiglisla SPB to the Fisher Channel
Initial Course: 055
Leg Distance: 10 Miles
Leg Altitude: 1200
As you line up on a 055 heading for take off, watch for other float planes in the area. Behind you is Bella Bella, and ahead is the Gunboat Passage. Tiny Bella Bella Island is ahead to starboard. Follow Gunboat Passage is it bends a little to starboard and narrows significantly. Toward the end of the Passage, it will turn to port, come to a heading of 046 and fly out over Fisher Channel, the body of water ahead.
Bella Bella, also known as Waglisla, is an unincorporated community and Indian Reserve community located within Bella Bella Indian Reserve No. 1 on the east coast of Campbell Island in the Central Coast region of British Columbia, Canada. Bella Bella is located 98 nautical miles (181 km) north of Port Hardy, on Vancouver Island, and 78 nautical miles (144 km) west of Bella Coola. Originally styled New Bella Bella to distinguish it from Old Bella Bella, which was on Denny Island, the community's official post office name for some time was Waglisla, meaning "river on the beach" in the Heiltsuk language. The Hudson's Bay Company's Fort McLoughlin was near the same location, which is on McLoughlin Bay.
With a population of 1,400, Bella Bella is the largest community to be found on the Central Coast north of Queen Charlotte Strait. It is home to the Heiltsuk First Nation. Like many small communities on the coast, such as nearby Ocean Falls, Bella Bella has had a precarious and isolated existence. The closing of coastal cannery towns and decreased need for coastal shipping reduced the importance of Bella Bella's port. However, the resumption of ferry services by BC Ferries and the introduction of an air link from Vancouver via Port Hardy by Pacific Coastal Airlines have revived Bella Bella. There are scheduled flights from Denny Island Aerodrome onward to Klemtu and Ocean Falls. Services in Bella Bella include a large general store, Alexa's restaurant, the Koeye Cafe, the Thistalalh Memorial Library, an RCMP police station (with a circuit court every 1.5 months), the Bella Bella Medical Clinic, staffed by 3 physicians and a Nurse Practitioner, and R.W. Large Memorial Hospital and its pharmacy. The CIBC bank branch closed in 2007. The village of Bella Bella was previously known as Waglisla to the Canadian Postal Service; the postal address changed to Bella Bella (V0T 1Z0) in October 2007.
Leg: Fisher Channel to Barba Point
Initial Course: 023
Leg Distance: 7 Miles
Leg Altitude: 1200 Feet
Once you are in the Fisher Channel, you will want to stay nearer the port shoreline. Come to a heading of 023. When you come to Barba Pont, you will take the left branch of the "Y" of waterways ahead. This is Cousin's Inlet. Adjust course to fly the center of Cousin's Inlet.


The first non-native to discover the potential of Ocean Falls was an enterprising young American named Robert M. Thompson of Tacoma, Washington. He was traveling on the west coast of Vancouver Island looking for mining interests for a Tacoma mining company when he met another fellow, B.F. Jacobsen in Clayoquot. This was the fall of 1902. While sharing their adventure stories, Thompson learned of vast timber resources in the Bella Coola River tributary area and realized the commercial value of this natural resource. Taking Jacobsen with him as his guide, Thompson then investigated this vast coastal area. Seeing the immense timber reserves, he immediately followed up on the Pulp Lease Act of British Columbia, which had recently been passed in parliament, by posting and advertising his intentions.
Thompson returned to Tacoma, Washington, where he and some friends organized the Bella Coola Pulp and Paper Company. This became the first established company with rights to 80,000 acres of timber amongst the inlets and land between Bella Coola and present day Ocean Falls.
In May of 1903, three fellows from this company came to view their acquisitions and potential in this area. They were; J.F. Keefe, timber cruiser, John Hewitt, Timberland, and Mark Smaby. After spending 10 days in and around Bella Coola, an aboriginal native and large canoe was hired for their further exploration and assessment of the timber throughout the inlets and land of the South Bentinck Arm, Kwatna, Burke Channel, Labouchere, Kimsquit and Dean Channel.

Upon arriving at the head of Cousins Inlet, a magnificent waterfall flowing into the ocean met the eyes of these enterprising fellows. The ideal location for their pulp and paper company had materialized. However, two years prior, in 1901, a mariner and trader by the name of Simon MacKenzie had obtained the power site lease and a Crown Grant of 260 acres from the B.C. Government. This grant and lease extended from Cousins Inlet on either side of Link River to Link Lake, a distance of about one mile. Subsequently Mackenzies rights were acquired and the Bella Coola Pulp and Paper Company was ready for business.
"Ocean Falls" is a translation of the Heiltsuk name for the head of what is now called Cousins Inlet. According to the late Heiltsuk elder and historian Gordon Reid Sr., 'Tuxvnaq means "big sea, out in the ocean" and refers to the wave breaking over a big rock in the middle of the falls coming out of the lake at the head of the inlet. He was responsible for the original mill owners' adopting the English translation of the Heiltsuk name for this location.
This has been an important resource site for the Heiltsuk for many generations, and it has a rich and complex history. A mountain at the head of the inlet could be one mentioned in a story recorded by Franz Boas as told by Andrew Wallace. It is part of a larger summary of Heiltsuk traditions of the origin of the world and successive transformations to the way it is today.
"Some people had been saved when the world was burned. They increased again in numbers and after some time there were people everywhere. Next the flood came. Some people knew that the water was going to rise and that the mountains were going to be covered. The waters were rising for four days. Then two mountains and were living near Bella Bella. The waters had almost covered . . . . Then took a mass of rock and threw it at in order to make him higher. Thus was saved as well as the people who had taken refuge on these mountains . . . . Finally the waters subsided. (Bella Bella Tales [1932], 2)" Andrew Wallace said that "the rocks hurled by may still be seen at the top of which rises over a terrace."
Leg: Barb Point to Coolidge Point
Initial Course: 357
Leg Distance: 4 Miles
Leg Altitude: 1200 to Landing Configuration
As you turn into Cousin's Inlet, notice the power lines that have been Following the port shoreline. Oceans is a Hydro Project supplying energy for the area.
As you enter Cousin's Inlet, Wearing Point is to port and Benn Point is to starboard.
As you see the end of Cousin's Inlet approaching, go to landing configuration. The last point of land to starboard is Coolidge Point and we will be rounding that to starboard and landing in front of Ocean Falls.
Leg: Coolidge Point to Ocean Falls
Initial Course: Round Coolidge Point to
Leg Distance: 2
Leg Altitude: Landing Configuration
As you round Coolidge Point, be ready to land 2 miles ahead at Ocean Falls.
Welcome to Ocean Falls
---
Doug Linn
Charter Manager
Misty Moorings, Inc
contact@mistymoorings.com
(Created 07.15.2012)
Copyright Return to Misty Moorings 2012
---
<! -----------------------------Trip Tic Info Above ------------------------->