Initial Mooring: N53 25.42 W129 15.12 Heading 100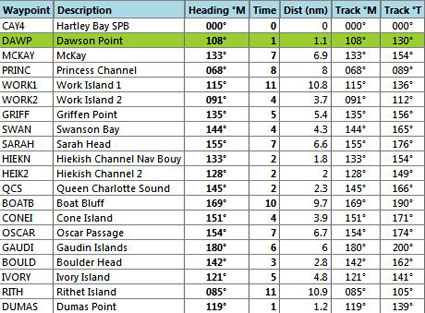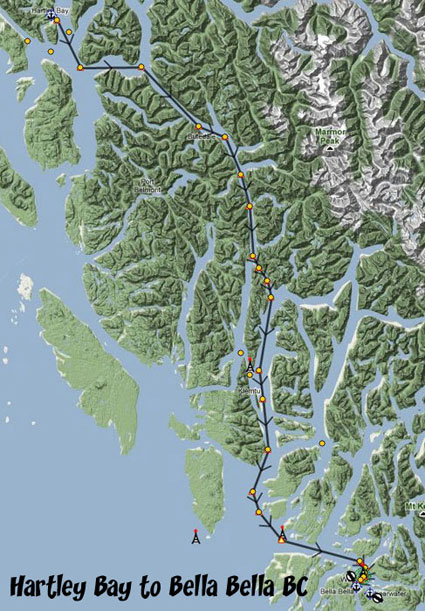 Overview: This cruise starts at the dock at Hartley Bay, BC. You cruise out into Wright Sound. We turn into McKay Reach watching for the Princess Royal Channel. Turning into the PRC, we follow it to Work Island. Passing Work Island, we continue in the PRC until we reach Sarah Head (the leading tip of Sarah Island). Here we turn to port taking the Hiekesh Narrows to Finlayson Head. We then head to starboard to cruise down the Finlayson Channel. We pass by Boat Bluff Lighthouse (which you can stop and see, it will be to starboard), then continue Milbank Sound. Entering the sound, we will stay to the port shore passing the Gaudin Islands and Boulder Head. The next waypoint is the 2nd lighthouse on this cruise, Ivory Island Lighthouse. At Ivory Island we turn to port up the Seaforth Channel and make our way to Bella Bella, BC. At Dryad Point, you will see the 3rd lighthouse on this cruise, the Dryad Point Lighthouse. Passing it and continuing to starboard, straight ahead in 2 miles is the Bella Bella, BC mooring dock.
NOTAM 1: If you use "go to" Hartley Bay, you will be exactly at the mooring point.
NOTAM 2: Watch for the Boat Bluff Lighthouse as you approach the BOAT waypoint. The lighthouse will be 1.5 miles to starboard.
NOTAM 3: Watch for the Ivory Island Light as you come up on the IVORY waypoint. The lighthouse will be to port about 3/4 mile.
NOTAM 4: As cruise the Seaforth Channel approaching the Bella Bella area ... be careful of the Dall Rocks and Rithet Island that both are near your projected course.
---
Doug Linn
Charter Manager
Misty Moorings, Inc
contact@mistymoorings.com