Overview: Portage Bay is east of Hydaburg, AK. You start at the pier or mooring point at Hydaburg. From there, if in a plane, you can taxi out to the SeaPlane take off area only a half mile away. You turn to port and go down the Sukkway Strait using a heading of about 127.
At Eek Point, the last point of land on the port quarter, you will turn to port going up the Hetta Inlet. After you see Copper Inlet to starboard and Jumbo Island in the center of the inlet, you look for tiny Dall Island.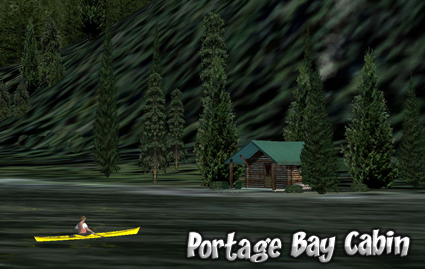 Just after Dall Island, you turn to starboard. You will see Gould Island in the center of the inlet. If you are in a boat, you will go to the port side of the Island through the Sulzer Channel. Once you pass Gould Island, you are in Portage Bay.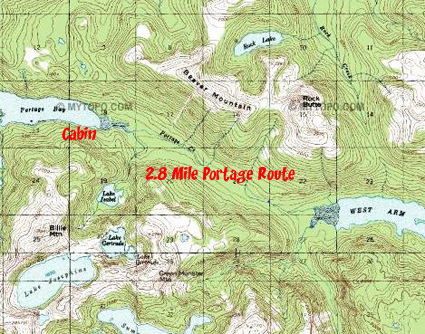 Portage Bay ... So named because of it's very important geographical positioning. In days gone by, the cabin site was used as a staging area for the portage of 2.8 miles between the end of Portage Bay and the West Arm of the Cholmondelay Sound. (Topo in the Trip Tic). This means it was only a short walk along a well-worn path along Portage Creek to the "other side" of this large island. To go around the island by boat required a sailing trip of 100 miles rounding the island to the south and almost 150 miles going around the north end. So a 2.8 mile "portage" became a poplular shortcut for people "back in the day." This cabin is positioned on the staging site, a nice flat piece of land where barges could unload their cargo for the portage.
The cabin is located at the far end of Portage Bay on the starboard shore. There is no mooring point or pier.