Destination: Gokachin Lake Cabin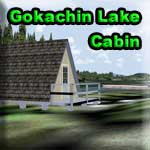 ---
Route Notes
This Scenery is for Return to Misty Moorings only.
Minimum Altitude: 1200 Feet
Landing zone is: Water, does not freeze in winter
GPS for destination: N55 25.34 W131 8.12 Alt 417'
Print-Able copy HERE
Flight Seeing Plan available HERE
---
Gokachin Lake Cabin
A small A-Frame cabin with a floating dock on Gokachin Lake greets visitors here. There are lot's of small islands on this lake so plan your seaplane approach and landing carefully. The cabin is situated on a small spit of land near the North end of the lake. Gokachin Lake offers some of the finest freshwater fishing in Alaska and is famous for it's healthy population of wild Rainbow Trout and this lake is full of them! You'll also find one of Alaska's most sought-after sport fish, the Dolly Varden trout and it's a world class fighter. The Alaska Northern Pike, yet another popular Alaskan Sport Fish, also resides in the lakes sloughs and tributaries. They can be found in Gokachin Lake by the boat loads!
The lake is located in a large old-growth forest of spruce, hemlock, and cedar. This provides lots of opportunities for people who enjoy this type of setting. From the lake shore there is a spectacular view of the mountains across the lake and hiking the trails around the lake is an all day adventure. This lake has one other cabin, Fish Creek Cabin, located on the northwest arm of the lake. Hunting for Sitka blacktail deer and black bear is popular in this area. Beaver, mink, and marten are common.
---
WaveTop VFR Plan
From: Misty's Place
To: Gokachin Lake Cabin
COURSE: We will be taking off from Misty's Place (PF20). Taxi to Rwy 171, the end with the little white cottage. After you lift off, turn sharply to port to fly out over the Misty Lighthouse and on into Bostwick Inlet. We will be flying east, so fly to the port side of the inlet to Bostwick Point
COURSE: As you near the exit of Bostwick Inlet and enter Nichols Passage, turn to port to about 20 degrees. You will be heading for Walden Point about 4 miles ahead.
COURSE: At Walden Point continue to Race Point about 2 miles ahead. To starboard is Annette Bay.
COURSE: Over Race Point. turn to starboard to a heading of about 90 degrees for 6 miles. This takes you over the center of Bold Island. (Correct for wind if necessary). Fly to the far shore of Bold Island prepare for port turn.
COURSE: At the far shore of Bold Island, turn to port to a heading of 47 (Round Island will be to port) you are flying toward the entrance of the Thorne Arm, 3 miles ahead. Moth Point will be to port and Cone Island to starboard as you enter the Thorne Arm.
COURSE: Follow the Thorne Arm altering heading to stay in the waterway off its starboard shore. Our next waypoint is near the end of Thorne Arm 8.5 miles away. The Snipe Islands will come up to port. Look ahead to where the starboard shore stops. You should adjust your heading to fly about 1 mile to the left of that point.
Gokachin Lake:

As we head up the Thorne Arm, you should know that the Gokachin Lake area is one of the finest fishing lakes in Alaska.

The Best Fishing In The Gokachin Lakes Area for Wild Rainbow Trout or Alaska Northern Pike! Fishing in Gokachin Lakes can be an adventure of a lifetime! You can look at the bulletin board at Misty's Place for business cards of some of the best fishing guides in the area. Most of them, sooner or later, call this lake their favorite fishing hole.

At Gokachin Lakes you'll be fishing for Rainbows, Steelhead, Northern Pike, and other freshwater fish species!Hopefully you will encounter wild trophy Alaska Rainbow Trout, Pike, and Steelhead. This is "Fishing at it's best!"
COURSE: As you approach the far shore at the end of the Thorne Arm, Map Point will come up to port. Maintain the heading that takes you near the turn in that starboard shore. Slow down and reduce altitude to about 900 feet.
COURSE: At the shoreline, turn a little to starboard to a heading of 30 degrees. We are going to fly over Mesa Lake and make a turn to port, lining up on Gokachin Lake.
COURSE Toward the end of Mesa Lake, turn to port to a heading of 330 and you will be lined up on the landing zone for Gokachin Lake.
NOTAM: Turn off AUTOPILOT ... assume landing configuration, reduced speed, flaps, altitude.
The Gokachin Lake Cabin is dead ahead on the far shoreline. If the canoe is there, then you guide has beat us here ... yep, he's even got the campfire going already!
Welcome to Gokachin Lake ... Best luck fishing!!!
---
Doug Linn
Charter Manager
Misty Moorings, Inc
contact@mistymoorings.com