Destination: Jordan Lake Cabin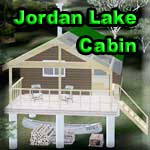 ---
Route Notes
This Scenery is for Return to Misty Moorings only.
Minimum Altitude: 1200 Feet
Landing zone is: Water, does not freeze
GPS for destination: N55 35.85 W131 33.31
Print-Able copy HERE
Flight Plan in Download Package is FS Plan
---
Jordan Lake Cabin
An updated USFS cabin located at Jordan Lake. Far from nowhere. There isn't much out here, except maybe trees, trees and more trees. Calm, tranquility, it's a great place to forget about modern life! But.. it isn't very easy to take in this heavenly location because a challenging approach awaits. Some float plane pilots will be able to land on Jordan Lake, some will not due to its small size. Do you have the stuff ?
This cabin has a new deck and covered porch that were recently added. The porch deck roof is a clear lexan material that can withstand the toughest weather conditions and in the winter, the snow can't find a foothold and slides right off the roof.
NOTE: The upcoming Pacific Fjords patch from ORBX will add an official USFS cabin across the lake from this location. It'll be nice to have some neighbors once in awhile. And there will be other cabins at nearby Heckman Lake to visit as well.
---
WaveTop VFR Plan
From: Ketchikan Int'l (PAKT)
To: Jordan Lake Cabin
NOTAM:

Set Weather and Time from

Misty's Place

, also go to the

Map Room

to see a rough flight plan of this flight.
Overview: You will fly from Ketchikan International to Mountain Point, round into the Carroll Inlet, then turn to port in the George Inlet. Follow the Trip Tic for some short turns to Jordan Lake. It is a short landing zone, be sure to read the NOTAMS at the bottom of the ticket.
COURSE: We start at PAKT and head 114 degrees down the Tongass Narrows over Pennock Island.
COURSE: Fly to Mountain Point, the point beyond Pennock Island on the port side of the Narrows. Turn to port to a heading of 20 degrees into the Carroll Inlet.
After you round Mountain Point, the Herring Bay Cannery will be on the port shore. A few miles down and you will see Nina's Landing, an exclusive resort. The California Head passes to starboard.
COURSE: As you round the next point, the George Inlet Cannery will be on the port shore, adjust your heading to 324 and fly up the George Inlet.
COURSE: You will find an island toward the end of the George Inlet. This is Coon Island. Adjust your heading to 349, a little to port to go over Bull Island, ahead.
COURSE: Over Bull Island, ease a little to starboard to 13 degrees. This heads you toward Salt Lagoon .. what looks like a lake ahead.
COURSE: Over Salt Lagoon, turn to port on a heading of 316 to fly over shallow lake, a lake to the left of the large mountain coming up on the starboard side.
NOTAM: Turn off autopilot if it is on.
COURSE: Over Shallow Lake, Look ahead and you should see Heckman Lake. Go to landing configuration. Skim the treetops after Heckman Lake because Jordan like is 1.3 miles beyond and it is a short landing zone. Be prepared to turn diagonally to starboard as you cross the shoreline, that is the longest area of the lake.
NOTAM: This is a very short landing zone, full flaps and just over the trees. The cabin is to your right over the near shore.
Welcome to Jordan Lake Cabin.
---
Doug Linn
Charter Manager
Misty Moorings, Inc
contact@mistymoorings.com