Destination: Mesa Lake Cabin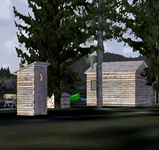 ---
Route Notes
This Scenery is for Return to Misty Moorings only.
Minimum Altitude: 1200 Feet
Landing zone is: Water, does not freeze in winter
GPS for destination: N55 23.27 W131 6.88 Alt 403'
Print-Able copy HERE
Flight Seeing Plan available HERE
---
Mesa Lake Cabin
A medium size cabin near the Southern shoreline of Mesa Lake, it's located in the heart of the Misty Fjords National Monument. The area is called "The Yosemite of the North" for its similar geology. Light-colored granite, about 50 to 70 million years old (Eocene Epoch to Cretaceous Period) has been sculpted by glaciers that gouged deep U-shaped troughs throughout the monument. Many of the glacial valleys are filled with sea water and are called "canals", but they are not man-made in any way; the walls of these valleys are near-vertical and often rise 2,000 to 3,000 feet (600 to 900 m) above sea level, and drop 1,000 feet (300 m) below it.
It is a protected area administered by the United States Forest Service on the Pacific Ocean coast of North America, in extreme southeastern Alaska and covering 2,294,343 acres (9,246 km) of Tongass National Forest in Alaska's Panhandle. All but 151,832 acres (614 km) is designated wilderness; Congress reserved the non-wilderness area for the Quartz Hill molybdenum deposit, possibly the largest such mineral deposit in the world. The national monument was originally proclaimed by President Jimmy Carter in 1978 as Misty Fiords National Monument, using the authorization of the Antiquities Act and became a part of an ongoing political struggle between the federal government and the State of Alaska over land use policy and authority that finally led to the Alaska National Interest Lands Conservation Act in 1980. In that law, it was statutorily established as Misty Fjords National Monument.
This location is tricky to get into and out of and only experienced floatplane operators should land here. This cabin is situated on a small peninsula of land. There is some challenge in landing so make sure you over fly the area and get your bearings before attempting to touch down on the lake. There is a small dock to pull up to.
---
WaveTop VFR Plan
From: Misty's Place
To: Mesa Lake Cabin
COURSE: We will be taking off from Misty's Place (PF20). Taxi to the end of the runway where the little white cottage is located. Face your aircraft down the runway and prepare to fly out over the center of Bostwick Inlet. After you are airborne, bank sharply to port to follow the center of the inlet. You can easily maintain an altitude of 1200 feet.
COURSE: As you near the exit of Bostwick Inlet and enter Nichols Passage, turn to port to about 20 degrees. You will be heading for Walden Point about 4 miles ahead.
COURSE: At Walden Point continue to Race Point about 2 miles ahead. To starboard is Annette Bay.
COURSE: Over Race Point. turn to starboard to a heading of about 90 degrees for 6 miles. This takes you over the center of Bold Island. (Correct for wind if necessary). Fly to the far shore of Bold Island prepare for port turn.
COURSE: At the far shore of Bold Island, turn to port to a heading of 47 (Round Island will be to port) you are flying toward the entrance of the Thorne Arm, 3 miles ahead. Moth Point will be to port and Cone Island to starboard as you enter the Thorne Arm.
COURSE: Follow the Thorne Arm altering heading to stay in the waterway off its starboard shore. Our next waypoint is near the end of Thorne Arm 8.5 miles away. The Snipe Islands will come up to port. Look ahead to where the starboard shore stops. You should adjust your heading to fly about 1 mile to the left of that point.
"What does "Ketchikan" mean?"
Tongass and Cape Fox Tlingits have used Ketchikan Creek as a fish camp which they called "kitschk-hin," meaning creek of the "thundering wings of an eagle." The abundant fish and timber resources attracted non-Natives to Ketchikan. In 1885, Mike Martin bought 160 acres from Chief Kyan, which later became the township. The first cannery opened in 1886 near the mouth of Ketchikan Creek and four more were built by 1912. The Ketchikan Post Office was established in 1892. In the late 1890s, nearby gold and copper discoveries briefly brought activity to Ketchikan as a mining supply center. Is there any industry in Ketchikan besides tourism?
"Is there any industry in Ketchikan except tourism?"
By 1936, seven canneries were in operation, producing 1.5 million cases of salmon. The need for lumber for new construction and packing boxes spawned the Ketchikan Spruce Mills in 1903, which operated for over 70 years. Spruce was in high demand during World War II, and Ketchikan became a supply center for area logging. A $55 million pulp mill was constructed at Ward Cove near Ketchikan in 1954. Its operation fueled the growth of the community. The mill's 50-year contract with the U.S. Forest service for timber was canceled, and the pulp mill closed in March 1997.
COURSE: As you approach the far shore at the end of the Thorne Arm, Map Point will come up to port. Maintain the heading that takes you near the turn in that starboard shore. Slow down and reduce altitude to about 900 feet.
COURSE: At the shoreline, turn a little to starboard to a heading of 30 degrees. Mesa Lake is 2.5 miles ahead.
NOTAM: Turn off AUTOPILOT ... assume landing configuration, reduced speed, flaps, altitude.
COURSE: You will fly over a "leg" of Mesa Lake toward the end of the lake ahead of you. Near the end, you will see the lake dogleg to starboard. Turn to starboard and land. You will have an expanse of lake to land on. The cabin is on a point to starboard.
Welcome to Mesa Lake Cabin!
---
Doug Linn
Charter Manager
Misty Moorings, Inc
contact@mistymoorings.com