Destination: Nina's Landing
Nina's Landing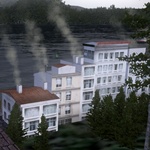 ---
Route Notes
This Scenery is for "Return to Misty Moorings" only.
Minimum Altitude: 800 Feet
Landing zone is: Water, does not freeze
GPS for Nina's: N55 21.91 W131 28.30 Alt 7 feet
GPS for cannery: N55 22.96 W131 28.17 Alt 7 feet
Print-Able copy HERE
---
Nina's Landing
True luxury in a wilderness setting. Nina's Landing is an all inclusive resort where guests can experience the beauty of the Misty Fjords area in elegant style. Opulent five star accommodations await at the only luxury resort in the Ketchikan area. The staff at Nina's Landing pamper you with the quality and exemplary service which consistently exceeds your expectations. Dine at "Nina's" and enjoy a dramatic and refreshingly different restaurant setting that is famous for serving local seafood and international gourmet cuisine in an atmosphere of sophisticated elegance.
Guests arrive by ground transportation, seaplane and boat. Look for the polished granite staircase that leads to the entrance. There is a large helicopter pad. Adequate parking for seaplanes and a boat dock large enough for luxury yachts. This isn't your typical wilderness lodge.
George Inlet Cannery
Seafood is one of the most valuable resources in the state of Alaska . It was the cannery that was the beginning of Ketchikan in 1887. After the fishing season, most inhabitants would leave and would not return until the next season. It was the technique of canning that made the abundant Alaskan salmon available to the nation and the world since the fresh catch could not be taken directly to the market from such an isolated place. Opening in 1914, the George Inlet Cannery packed fish most years until 1927. In 1934 the main cannery was rebuilt adding a diesel engine, but closed during World War II. After the war it reopened and operated until 1958. Fishing remained the economy's mainstay and this cannery was one of seven, that combined, produced almost two million cases of salmon each year. For years the building was used for warehouse and fisherman's storage. The cannery reopened in 1996 as a historic landmark and tourism property.

Look for the cannery just North of Nina's Landing on George Inlet. It's now just a shell of it's former self but is still visited by tourists to this day. As you approach the cannery, there is a couple of Orca nearby hunting, so come into this area slowly and you'll see nature at work. There are fish jumping to get away from the killer whales and birds diving in to get in on the feeding frenzy.
---
WaveTop VFR Plan
FROM: Misty's Place (PF20)
TO: Nina's Landing & George Inlet Cannery
COURSE: We will be taking off from Misty's Place. Taxi up near the little white house, turn around and take off down the runway at a heading of about 173. Once airborne, ease to port to fly the center of Bostwick Inlet. It is safe to fly this route at 800 feet to better enjoy the scenery.
Course: As you leave Bostwick Inlet, turn to port over Bostwick Point to a heading of 23 heading for Walden Point (on the Annette Island or starboard side) 4.3 miles distant.
Blank inlet will come up to port, and beyond it you will be able to see Ketchikan International Airport (PAKT). Watch for traffic from starboard as you will be crossing under the approach for PAKT 29.
COURSE: As you cross Walden Point, look ahead for Mountain Point to Port, a point of land across the Tongass Narrows. Head for that point (heading about 35 degrees).
COURSE: At Mountain Point, set a heading of 11 degrees to fly up the south coast of Rivillagigedo Island (the island Ketchikan is on).
Watch for Herring Bay and the Herring Bay Cannery that will come up on your port side. You will see the channel split, stay to port ... this is the George Inlet.
For Nina's Landing:
COURSE: Reduce altitude to wavetop, reduce speed get set for a water landing in 2.5 miles. Land parallel to the shore as you arrive at Nina's Landing. (Don't wear those dirty boots into that lobby!)
For George Inlet Cannery:
COURSE: Fly past Nina's Landing and turn to port around the next point. You will find the George Inlet Cannery straight ahead. Land and enjoy watching the pod of killer whales going after the jumping salmon.
---
Doug Linn
Charter Manager
Misty Moorings, Inc
contact@mistymoorings.com