Dispatch Setup
Suggested Altitude: Approx 1200' - See each leg
Landing zone is: Tarmac, Dirt, Water Optional
Aircraft Type: Wheeled
Distance approximately: 171 m
Estimated Flight Time: 1.5 hours
Autoroute Flight Plan (.pln) HERE
Dispatch Usage Instructions HERE
NOTAM: When you are "down" the dispatch and need to see the map, click on the Leg #xx Link and it will open the map, click your "back' button for it to disappear.
---
Dispatch Overview
This dispatch starts at Klawock (hard runway) and circles around the western Misty Fjords RTMM area giving you a good perspective of the terrain in that area. There are many Sea Plane Bases where you can land (if you have an amphibian), and then you proceed to PAKT as your final destination.
---
Leg #01: Start PAKW (Klawock)
At parking #5
Altitude: 59'

When you begin your journey, you will fly toward the community of Klawock.
Klawock's first settlers were Tlingit who came from the northern winter village of Tuxekan. They used it as a fishing camp for the summer period, and called it by several different names: Klawerak, Tlevak, Clevak, and Klawak. The name "Klawock" is derived from the Tlingit name awa:k, a subgroup of the Tlingit nation. In 1853 a Russian navigator referred to the village as "Klyakkhan", and in 1855 as "Thlewakh".
In 1868, European Americans opened a trading post and a salmon saltery; some years later, in 1878, a San Francisco firm opened the first cannery in Alaska. In the following decades, several others were established. A United States post office was established in 1882. The 1890 census recorded the town's population as 260.
The Alaska Native Brotherhood (ANB) and Alaska Native Sisterhood (ANS), nonprofit organizations working for civil rights of Alaska Natives, were established by residents in 1912. Its founders and many volunteers built the Town Hall and a community center in 1939, during the Great Depression.
In 1929 the town incorporated as a city, and in 1934 Congress awarded federal funding for the expansion of the cannery, on the condition that the community remain liquor-free. At the same time, the Klawock Cooperative Association (a nonprofit organization) was formed to manage the cannery.

---
Leg #02: To "KLAW" (Klawock)
Heading: 215
Distance: 2.8 m
Safe Altitude: 1200'
Klawock has the oldest hatchery in Alaska. This industry enhances the runs of salmon, including sockeye, coho, and steelhead. A sawmill and area logging operations are located here.
Klawock has a harbor, often used by tourists as a departure point for trips or boating exploration of the bays, inlets, and surrounding islands.
Each February 16, the ANB/ANS organizations sponsor the "Elizabeth Peratrovich Celebration" with ceremonies and a potluck, honoring the anniversary of passage of the landmark legislation. The city also sponsors a summer festival, the "Celebration by the Sea."
A Totem Park has 21 totem poles, one of the largest collections in Alaska: it displays original and replica totems from the old village of Tuxekan. The city built a carving shed to house the poles during restoration, which can be visited. In 1998 the city commissioned construction of a Long House (named Gaanì Ax Adi) with a new totem pole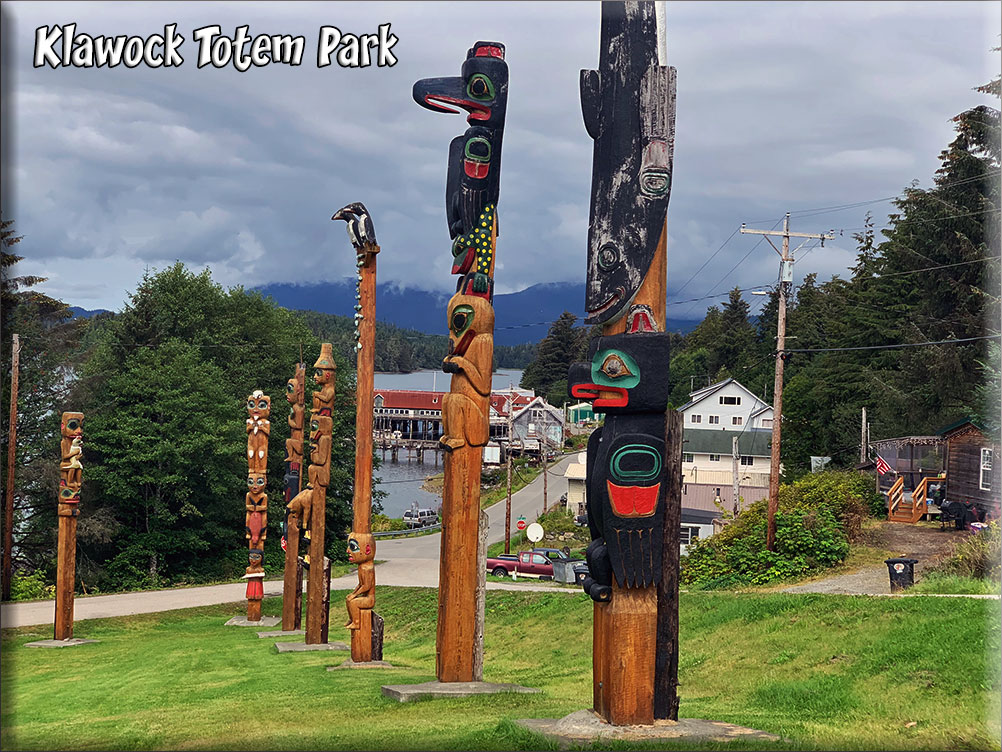 ---
Leg #03: To "CGA" (Craig Sea Plane Base)
Heading: 159
Distance: 3.8 nm
Safe Altitude: 1200'


Founding: Craig was named after Craig Miller (also spelled Millar) who established a fish saltery on nearby Fish Egg Island in 1907 with the assistance of the local Haida natives who moved onto Prince of Wales Island, being driven from Haida Gwaii (British Columbia's Queen Charlotte Islands) starting in the 18th century. Craig Miller constructed a cold storage plant and packing company at the present site of Craig, and in 1922 was instrumental in the incorporation of the city (originally as an Alaska second-class city within the Alaska Territory, pre-statehood).

Commercial: The commercial fishing industry was responsible for Craig's relatively large population compared to neighboring communities. In the 1930s, record pink salmon runs brought many new settlers. The 1950s saw a collapse of the fishing industry because of depleted salmon populations. In 1972, a large sawmill was established nearby providing a steady source of year-round employment.Today, Craig relies on commercial fishing, fish processing, and the timber industry.
Massacre: On September 7, 1982, the fishing boat "Investor" was found burning off the coast of Craig, and the boat's passengers and crew were found to have been killed. Due to the badly burned state of the bodies, investigators were only certain that they had recovered the remains of seven bodies, but a coroner's jury ruled that all eight who were aboard the boat had been killed. The boat's owner, Mark Coulthurst, from Blaine, Washington, his wife Irene, and their two young children were among the victims. In September 1984, a suspect, John Kenneth Peel, from Bellingham, Washington was arrested for the murders. Peel's first trial ended in a hung jury, and his retrial, in 1988, ended in his acquittal.
Earthquake: On January 5, 2013 at 3:58 am ET Craig was hit by a 7.5-magnitude offshore earthquake 63 miles (102 km) west of the town. Regional tsunami warnings and advisories were issued. Voluntary evacuations of the town occurred. Despite this, no fatalities, serious injuries, or incidents of damage were reported and the tsunami threat never materialized other than minor, localized sea level rises.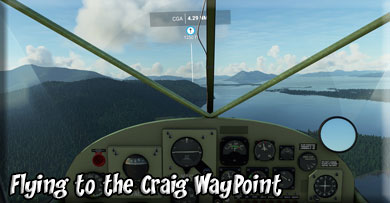 NOTAM: Increase altitude to 2300'

---
Leg #04: To "Juan" (Juan Bautista Island)
Heading: 288*
Distance: 5.7 nm
Safe Altitude: 2300'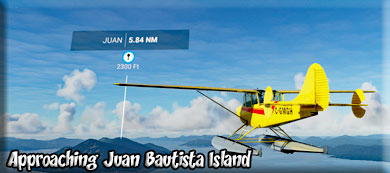 The San Juan Bautista Island Gold Prospect is near Craig, Alaska. Historically the site has been associated with the Ketchikan Mining District which is now part of the Tongass National Forest. Preliminary development has taken place such as surface trenching, adits, shafts, drill holes, geophysics, geochemistry, or geological mapping. Enough data has been gathered to estimate grade and tonnage.

---
Leg #05: To "PORTI" (Portillo Channel)
Heading: 289*
Distance: 7.1 nm
Safe Altitude: 1200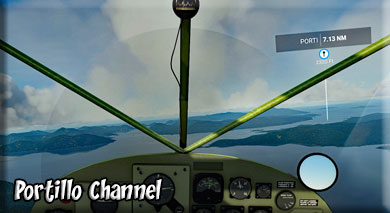 Channel separating San Fernando Island to the West and Lulu Island to the East.

---
Leg #06: To "ARRIG" (Arriga Passage)
Heading: 286*
Distance: 6.1 nm
Safe Altitude: 1200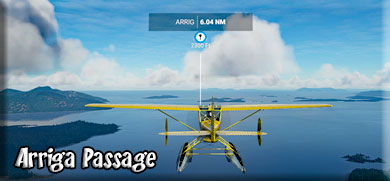 Passage with Esquibel Island to the North and Noyes Island with Steamboat Bay (WSB) to the south.

---
Leg #07X: To "WSB" (Steamboat Bay SPB)
Heading: 204*
Distance: 2.9 nm
Altitude: 2300
The Steamboat Bay Fishing Club offers luxury Alaska Sportfishing in the Ketchikan area. The lodge sits on the Noyes Island and is accessible by float plane from Ketchikan. One of the pluses for staying with Steamboat Bay Fishing Club is that welcome both novice and veteran fishermen. This is an all-inclusive fishing resort in the heart of the Southeastern Alaska wilderness.
Barn door Halibut, King Salmon, Coho Salmon, big Ling Cod, Big Yellow Eye, and Plenty of Bottom Fish to rock your world. In addition to the outstanding fish, there are plenty of opportunities to drop a pot and bring in the Dungeness Crab. Best of all you are not on one of those go-it-alone trips. The guides here are licensed by the US Coast Guard, and they provide you with the best fishing gear and equipment. The Itinerary is yours to set, and options include crabbing, whale watching, etc. Otherwise, expect a day of fishing for trophy sized Halibut and plenty of King Salmon. At the end of the day, the crew takes care of your catch by processing it and freezing it for your return trip.

---
Leg #08: To "CONE" (Cone Island)
Heading: 157*
Distance: 8.0 nm
Safe Altitude: 1800'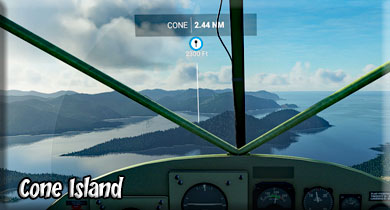 Cone Island is listed in the Islands Category for Ketchikan Gateway County in the state of Alaska. Cone Island is displayed on the "Ketchikan A-4" USGS quadrangle topo map. Anyone who is interested in visiting Cone Island can print the free topographic map and other maps using the link above. The location, topography, and nearby roads & trails around Cone Island (Island) can be seen in the map layers above. The latitude and longitude coordinates of Cone Island are 55.2447222 (North), -131.3211111 (West) and the approximate elevation is 125 feet (38 meters) above sea level.

---
Leg #09: To "VETA" (Veta Bay)
Heading: 173*
Distance: 4.8 nm
Safe Altitude: 1800'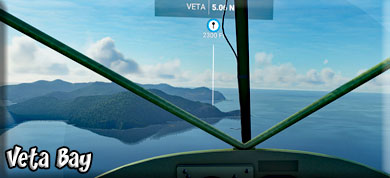 Spanish word meaning "a vein (or stripe of mineral)," given in 1923 by U.S. Coast and Geodetic Survey (USC&GS), because "it is bordered by bluffs of veined or striped rock."

---
Leg #10: To "CHIR" (Cape Chirikof)
Heading: 169*
Distance: 3.1 nm
Safe Altitude: 1800
This is a cape justting off the southeastern shoreline of Baker Island. The mountain to port is Mt Miramar (2600')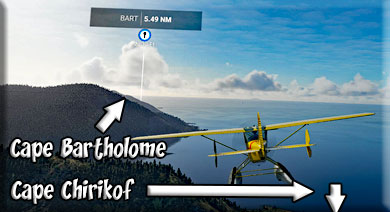 ---
Leg #11: To "BART" (Cape Bartolome)
Heading: 127*
Distance: 4.9 nm
Safe Altitude: 2000
Cape Bartolome is the southernmost point of Baker Island.

---
Leg #12: To "BUCA" (Bucareli Bay)
Heading: 026*
Distance: 10.5 nm
Safe Altitude: 1200'

Bucareli Bay is a bay in the Alexander Archipelago, in the southeastern part of the U.S. state of Alaska. It is located off the western coast of Prince of Wales Island, between Baker Island and Suemez Island. To the east it connects to various waterways, such as San Alberto Bay. To the west it opens directly upon the Pacific Ocean. Bucareli Bay is about 25 miles (40 km) long.
According to the United States Geological Survey, the name "Bucareli" was given in 1775 by Juan Francisco de la Bodega y Quadra, who called the bay "Puerto y Entrada de Bucareli," in honor of Antonio María de Bucareli y Ursúa, then viceroy of New Spain.[2] In the 1790s, George Vancouver, who had access to a variety of Spanish maps, called the bay "Puerto del Baylio Bucareli." Francisco Antonio Mourelle was present with Quadra at Bucareli Bay and wrote about seeing the light of erupting volcanoes, although he was likely seeing something else, perhaps forest fires. The Spanish repeatedly visited Bucareli Bay in the late-18th century. Ignacio de Arteaga, along with Quadra and Mourelle, visited in 1779.

---
Leg #13: To "ULLUA" (Ullua Channel)
Heading: 080*
Distance: 2.9 nm
Safe Altitude: 1200'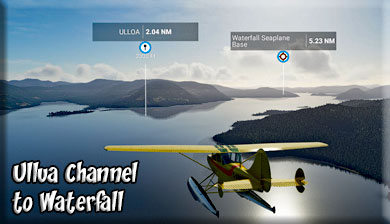 A water passage entrance to the Waterfall area. A good place to line up for a water landing at Waterfall POKW.

---
Leg #14: To "POKW" (Waterfall SPB)
Heading:125*
Distance: 3.5 nm
Safe Altitude: 1200'

Waterfall is an Unincorporated community on the west coast of Prince of Wales Island in Prince of Wales-Hyder Census Area, Alaska, United States, approximately 60 miles (97 km) west of Ketchikan. The primary industry was Waterfall Cannery, built in 1912 as a salmon processing facility. The cannery closed in 1973 and was renovated into the Waterfall Resort, a sport fishing lodge.
Waterfall is not connected to the island's road system; visitors to the resort arrive by floatplane from Ketchikan.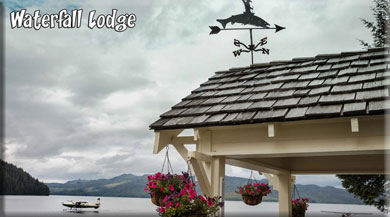 Celebrating more than a century of tradition, Waterfall Resort spans 52 acres on Prince of Wales Island near Alaska's famed Inside Passage. Accessible only by air and sea, our record-setting salmon cannery turned legendary sport-fishing resort draws anglers from around the world (65,000 to date), who come to our remote shores in pursuit of wild king and silver salmon, halibut, lingcod, and more than 20 other fish species.

---
Leg #15: To "MEAR" (Meares Passage)
Heading: 152*
Distance: 3.9 nm
Safe Altitude: 1200'
You will see Meares Island in the middle of Meares Passage.

---
Leg #16: To "LOOK" (Cape Lookout)
Heading: 161*
Distance: 9.6 nm
Safe Altitude: 1200'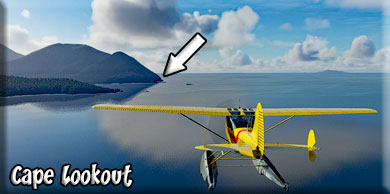 Located on the Southwest corner of Dall Island. Height is 3110' at peak. Sakie Bay is just to port as we round Cape Lookout.

---
Leg #17: To "SAKI" (Sakie Bay)
Heading: 108*
Distance: 3.4 nm
Safe Altitude: 1800'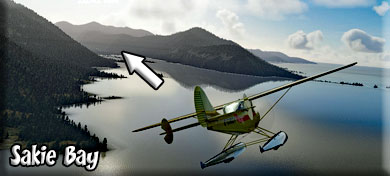 A bay on the Southwest side of Dall Island. We cut through a gap here to move out into the western side of Cordova Bay and on into Badley Bay.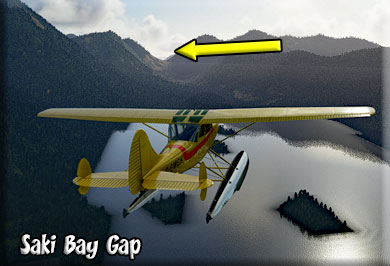 ---
Leg #18: To "BAD" (Badley Bay)
Heading: 074*
Distance: 6.9 nm
Safe Altitude: 1299'
Badley Bay is an inlet of the Cordova Bay area, located on the northwest side of Cordova Bay.

---
Leg #19: To "JACK" (Jackson Island)
Heading: 092*
Distance: 9.0nm
Safe Altitude: 1200'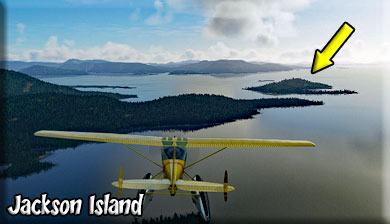 You are now in Cordova Bay. The island to port is Sukkwan Island, with a highest peak of 2160 Feet.

---
Leg #20: To "CORD" (Cordova Bay WayPoint)
Heading: 357*
Distance: 7.1 nm
Safe Altitude: 1200'

The CORD waypoint sets you up for the approach to Hydaburg. When you make your turn at CORD to SUKK, you are lining up on the Sukkawan Strait, which is the direct approach to the Hydaburg SPB PAHY. Blanket Island will be off your port wing when you enter the strait.

---
Leg #21: To "SUKK" (Sukkwan Strait)
Heading: 298*
Distance: 5.6 nm
Safe Altitude: 1200'

As you near the strait, you will go around Bradley Island, it passes to port. Then you line up on the Sukkwan Strait.
In the strait, Sukkwan Island will be to the West (port) and the Prince of Wales Island to the Northwest, starboard.

Sukkwan Island (to port) is an island in the Alexander Archipelago of southeastern Alaska, United States. It lies just off the southwest coast of Prince of Wales Island. To its west lies Dall Island, and to its south lies Long Island. The nearest city is Hydaburg, to its north on Prince of Wales Island, just across the Sukkwan Strait. The island's area is 166.9 km² (64.44 sq mi) [1] and a population of nine persons was reported at the 2000 census.
Sukkwan Island is where the eponymous novella by David Vann takes place.

---
Leg #22: To "PAHY" (Hydaburg SPB)
Heading: 294*
Distance: 2.9 nm
Safe Altitude: 1200'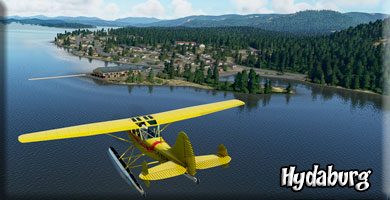 If you have an amphibian, Hydaburg is a fine place to land and pause your flight for a while. There are many interesting things to see at this location.
Hydaburg was formed in 1911 by consolidation of the three Haida villages on Cordova Bay. These villages were Howkan on the west coast of Long Island, Sukkwan at the northern end of Sukkwan Island, across Sukkwan Strait from Hydaburg, and Klinkwan on Prince of Wales Island at the mouth of Hunter Bay. The location was chosen because it had a reliable water supply. The town was incorporated in 1927. The Hydaburg Cooperative Association was established in 1938 shortly after the Indian Reorganization Act was extended to Alaska in 1936, supplanting the municipal government. It was the first IRA-recognized Village Council in Alaska. Residents petitioned to be granted an Indian Reservation as a way of securing their rights to the surrounding land. The area had previously been designated as the Hydaburg Indian Reservation from 1912-1926 but had been returned to the Tongass National Forest at community request in 1926. The Hydaburg Indian Reservation was established under the Indian Reorganization Act in 1949 but was invalidated by a US District Court decision in 1952.
Hydaburg was designated as a second-class City in the late 1960s and became a first-class city in 1973. The Hydaburg Cooperative Association remains as the federally recognized tribe, while the Haida Corporation is the village corporation under the Alaska Native Claims Settlement Act.

---
Leg #23: To "PORT" (Portage Bay)
Heading: 035*
Distance: 8.8 nm
Safe Altitude: 1500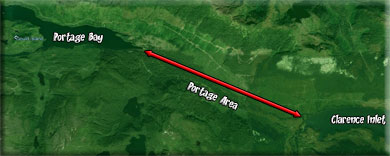 Portage Bay is interesting historically. If you look at the map, the Hetta Inlet from Cordova Bay connects to the tiny Portage Bay. Then there is a strip of land, about 5 miles long that separates Portage Bay from the West Arm of the Cholmondeley Sound connecting to the Clarence Strait. By using this short overland portage route, supplies and products could be transported in much shorter time than by sailing all the way around Prince of Wales Island. Watch for this area as you fly from Portage Bay to Dora Bay.

---
Leg #24: To "DORA" (Dora Bay)
Heading: 080*
Distance: 12.9 nm
Safe Altitude: 2000'

Dora Bay is found on the eastern side of Prince of Wales Island. It is an inlet from the much larger Clarence Strait that lies between Prince of Wales Island and Gravina Island (the island where Ketchikan PAKT is located).
---
Leg #25: To "CHASI" (Chisina Point)
Heading: 050*
Distance: 8.0 nm
Safe Altitude: 1200

Chasina Point is the last point of land you will cross over while flying over Prince of Wales Island. From here, you turn to the southwest for the Bronough Islands just off Gravina Island. You will be crossing the Clarence Straight.

---
Leg #26: To "BRON" (Bronaugh Islands)
Heading: 112*
Distance: 12.8 nm
Safe Altitude: 1200

The Bronaugh Islands are located just off the southern coast of Gravina Island. You will now be entering the Nichol's Channel.

---
Leg #27: To "NICH" (Nichols Passage)
Heading: 013*
Distance: 5.6 nm
Safe Altitude: 1200

As you fly over the Bronough Island Area, you will be turning to port to follow the Nichols Passage to China Town Point.
Nichols Passage is a gut located just 18 miles from Ketchikan, in Prince of Wales-Hyder Census Area, in the state of Alaska, United States, near Metlakatla, AK. Whether you're baitcasting, fly fishing or spinning your chances of getting a bite here are good. So grab your favorite fly fishing rod and reel, and head out to Nichols Passage. Alternate names for this gut include Nichols Pass.
Join us as we discuss the Alaska Fishing License options, fishing rules and fishing regulations. Please remember to check with the local Fish and Wildlife department to ensure the stream is open to the public. Now get out there and fish! Check out our Fishing Times chart to determine when the fish will be most active.
As you fly the Nichols Passage, the PANT airport will be seen to starboard on Annette Island. Metlakatla Jetty and the PAMM SPB come up to starboard also.

---
Leg #27: To "CHINA" (China Town Point)
Heading: 002*
Distance: 4.9 nm
Safe Altitude: 1200'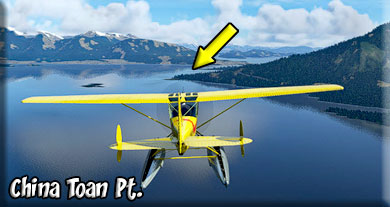 The China Town Point is the last point to starboard in the Nichols Passage, you will turn to port to line up on Pennock Island.

---
Leg #27: To "PENN" (Pennock Island)
Heading: 318*
Distance: 2.8 nm
Safe Altitude: 1200'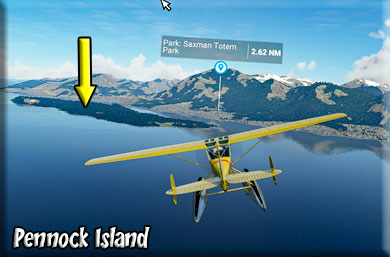 At Pennock Island, you can see Ketchikan to your right and the PAKT Ketchikan Airport to your left. Contact PAKT approach and line up for the approach and landing.

---
Leg #27: To "PAKT" (Ketchikan Airport)
Heading: 284*
Distance: 3.4 nm
Safe Altitude: 1200' to landing altitude.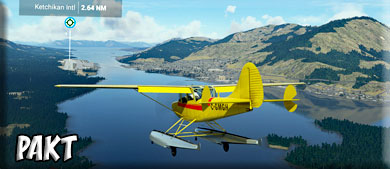 ---
We hope you enjoyed your tour of the western side of the RTMM area. Thank you for flying the route.

---